Outbound Integrations
---
Simpo Plus's Outbound Integrations allows you to send new Simpo Plus interactions and events to your favorite software with a single click! Currently, Simpo Plus supports integrations with a variety of solution types including Analytics, Marketing, Customer Success, and Customer Data Hubs software. Note that in order to use outbound integrations, you must have Simpo installed via the JavaScript snippet.
---
How to enable Outbound Integrations
The full list of available integrations can be accessed by navigating to Simpo Plus's Configuration Page and clicking the Integrations Tab.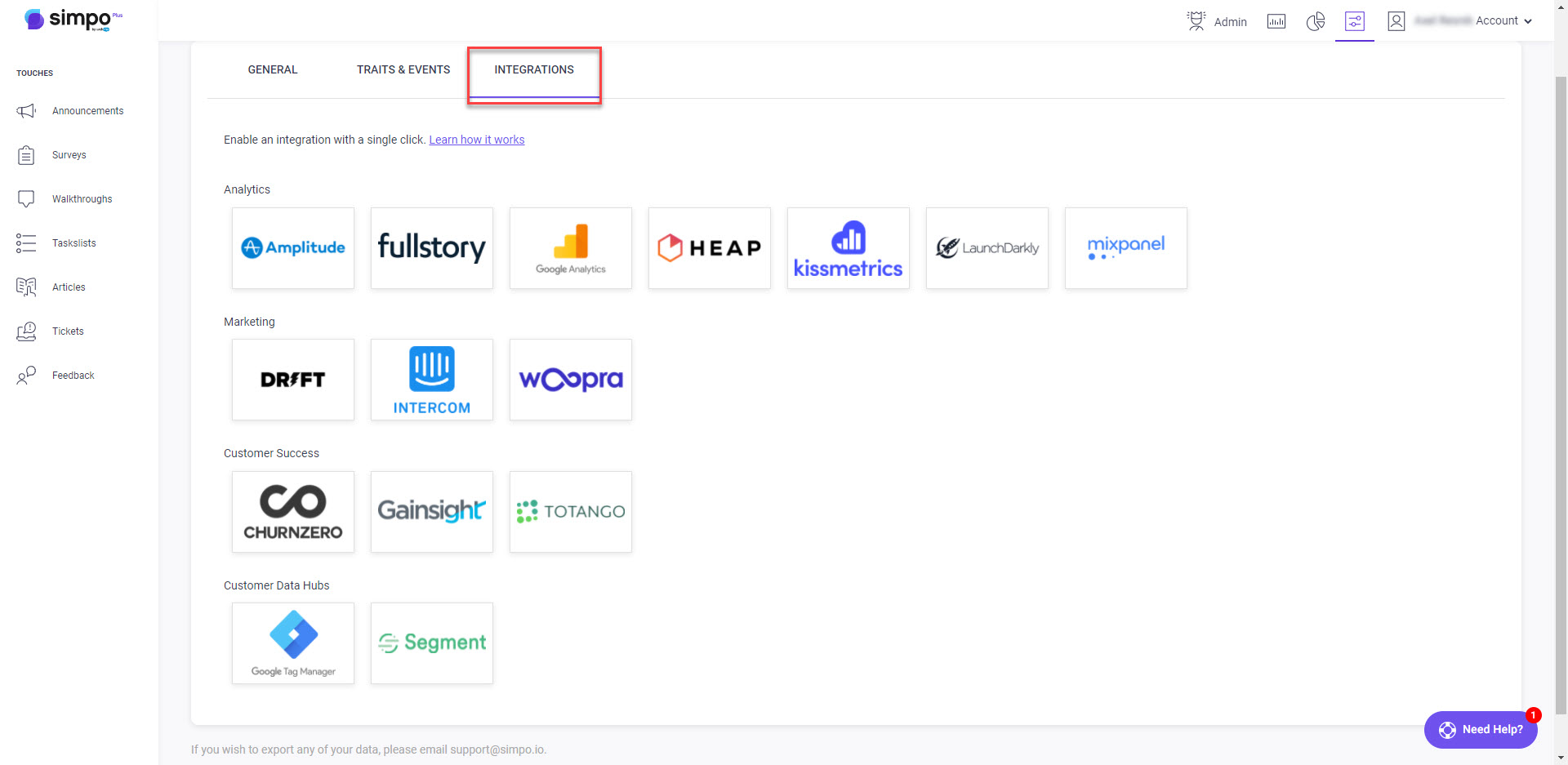 From there, integrations can be enabled with a single click by selecting your desired solution!
Integrating with Google Analytics or Heap? Make sure to utilize field mapping on those platforms to ensure the data sent by Simpo Plus will match!
---
How to disable Outbound Integrations
Want to disable one of your integrations? Simply click on the purple "X" found on enabled tiles to remove the connection. Simpo Plus will not send any additional data until the connection is re-enabled.
---
Outbound Integration FAQ
Does Simpo Plus support inbound integrations?

Not yet. At this time, Simpo Plus only supports the exporting of data. Be on the lookout for our upcoming inbound / 2-way integrations!
Will enabling an integration send all previous data?

No. Enabling an integration will only send events that occur after the connection was created.
Is there a limit on the number of integrations I can have?

There is no limit on integrations. Enable away!
Can I choose what data Simpo sends?

Not at this time. Outbound Integrations will send all collected data.
List of Events
| | | |
| --- | --- | --- |
| Tool | Event Name | Plain Text Event Sent to Analytics Systems |
| Search | search-opened | Simpo - Search - Opened |
|   | search-selection-made | Simpo - Search - Selection Made |
|   | search-dismissed-without-selection | Simpo - Search - Dismissed Without Selection |
| Announcement | announcement-opened | Simpo - Announcement - Opened |
|   | announcement-dismissed | Simpo - Announcement - Dismissed |
| Article | article-opened | Simpo - Article - Opened |
|   | article-dismissed | Simpo - Article - Dismissed |
| Survey | survey-opened | Simpo - Survey - Opened |
|   | survey-dismissed-before-completion | Simpo - Survey - Dismissed Before Completion |
|   | survey-question-answered | Simpo - Survey - Question Answered |
|   | survey-submitted | Simpo - Survey - Submitted |
| Walkthrough | walkthrough-opened | Simpo - Walkthrough - Opened |
|   | walkthrough-step-completed | Simpo - Walkthrough - Step Completed |
|   | walkthrough-dismissed-before-completion | Simpo - Walkthrough - Dismissed Before Completion |
|   | walkthrough-completed | Simpo - Walkthrough - Completed |
| Feedback | was-this-helpful-submitted | Simpo - Was This Helpful - Submitted |
| Support | support-option-chosen |   |
| Launchpad | launchpad-opened |   |
|   | launchpad-before-open |   |
|   | action-chosen |   |
|   | faq-chosen |   |
|   | automation-chosen |   |
|   | action-done |   |
|   | automation-done |   |
| All | all |   |
---
---