Simpo Plus Widget
---
Simpo Plus Widget is the engine behind everything related to Simpo Plus Tools.
Users will start their Simpo Plus journey by navigating to the Widget to find the information they are seeking. When users click the widget, they are taken to the search bar, where they can search for anything related to the Simpo Plus information you have created.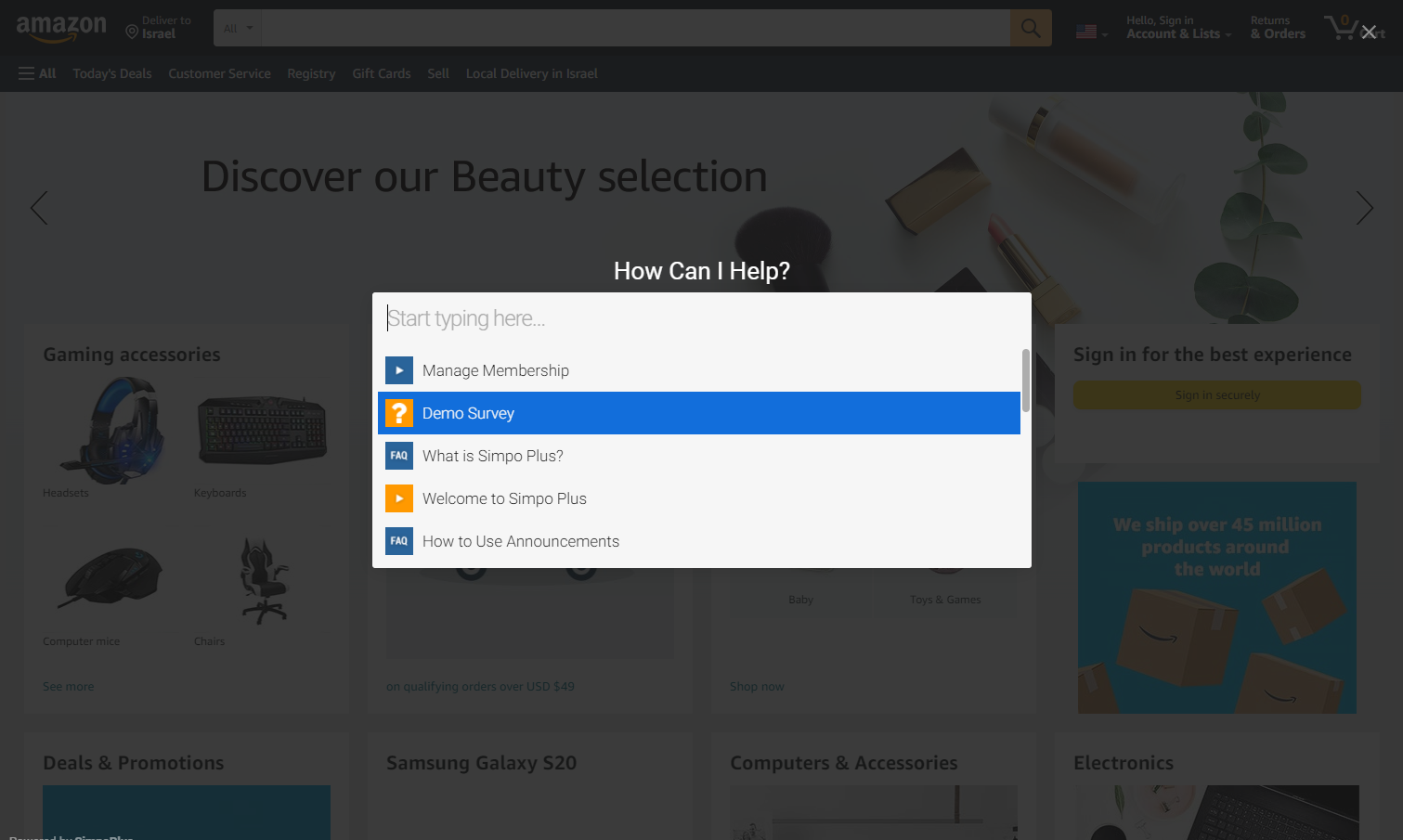 By default, the Widget will show a red notification dot until clicked on.
Customizing the Simpo Plus Widget
---
The widget is fully customizable and can be made to reflect any type of branding or custom CSS. You can edit by following the steps below:
Go to 'Quick Search' touch and navigate to the 'Design' tab
When you reach this page, you can edit everything from the Widget text color, the background color, and even the Search Bar design.
Widget Appearance
These options allow you to modify the look of your Simpo Plus Widget (or Launchpad).

The Text field allows you to change the text on the widget.
Text Color changes the color of the text found on the widget. We recommend using white or black to ensure visibility.
Background Color changes the color of the widget itself. Use the color slider or input hex code to match your brand's color perfectly.
The CSS Field allows you to input your own custom CSS to modify the widget at a deeper level.
Move the widget to a different location
---
In order to move the widget, the following CSS can be customized and added to the .simpo-launchpad-widget console
position: fixed;
top: XXpx;
right: XXpx;
bottom: XXpx;
left: XXpx;
Alternatives to the Simpo Plus Widget
---
Using the Widget is not the only way to launch the Simpo Plus Search Bar.
To open the widget from any element or a launcher, first disable the widget by adding the display: none CSS command on the launchpad console

After that, add the following command to any element in your product.
simpo.open()
Once attached, users can launch Search with just a click!
Ready to customize the rest of the Search Bar? Read more
here
.
---
---