CSS for Walkthroughs
The balloons and tooltips can be set to a default design on Walkthroughs. To do this:
On the Walkthrough menu, select 'Design'

Personalize the look and feel of the balloons. The preview will automatically update after every update, showing the latest version.

Regular steps and Announcements steps can both be customized individually.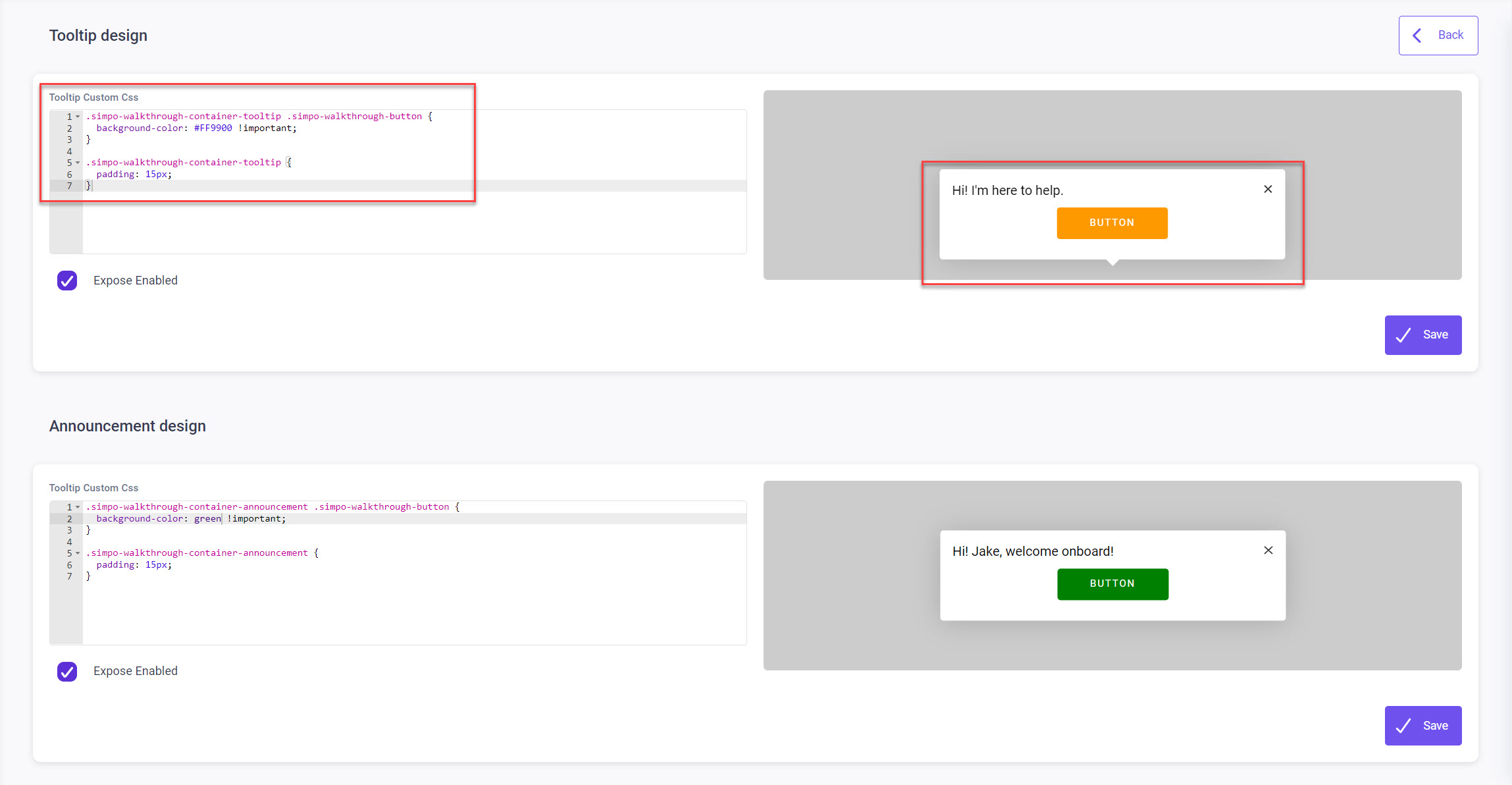 You can customize using any or all of the below selectors.
| | |
| --- | --- |
| Regular step selector | Target |
| .simpo-walkthrough-container-tooltip | Main tooltip container |
| .simpo-walkthrough-container-tooltip .simpo-walkthrough-button | Button design |
| .simpo-walkthrough-container-tooltip .simpo-walkthrough-button:hover | Button design on hover |
| .simpo-walkthrough-container-tooltip .simpo-walkthrough-button button  | Text inside the buttons |
| .simpo-walkthrough-container-tooltip .simpo-walkthrough-button button:hover | Text inside the buttons on hover |
| .simpo-walkthrough-container-tooltip .simpo-walkthrough-arrow | Step arrow |
| .simpo-walkthrough-container-tooltip svg | X (Close) icon design |
| .simpo-walkthrough-container-tooltip p | Text inside the container |
---
| | |
| --- | --- |
| Announcement step selector | Target |
| .simpo-walkthrough-container-announcement | Main announcement container |
| .simpo-walkthrough-container-announcement .simpo-walkthrough-button | Button design |
| .simpo-walkthrough-container-announcement .simpo-walkthrough-button:hover | Button design on hover |
| .simpo-walkthrough-container-announcement .simpo-walkthrough-button button  | Text inside the buttons |
| .simpo-walkthrough-container-announcement .simpo-walkthrough-button button:hover | Text inside the buttons on hover |
| .simpo-walkthrough-container-announcement .simpo-walkthrough-arrow | Step arrow |
| .simpo-walkthrough-container-announcement p | Text inside the container |
We can be contacted by email at
support@simpo.io
if you need assistance or have any questions
---
---