How to Use Articles
---
What's an Article?
The Article Tool is used to update, share information, and act as an overall knowledge tool for a first-time user. An article should be detailed, impactful, and brief, but efficient in drawing attention to exactly what the user is looking to understand.
---
How to Create an Article
To create a new article, click the "new" button with plus symbol located top right on the page.

---
New Article
Like almost all Simpo Plus Tools, Articles have three tabs that control the Content, Triggers, and Search of the individual tool. The "Content" section is used to customize and build your article, which can be as simple or as complicated as you'd like. In this section, you have the ability to add videos, photos, links, headers, quotes, and lists, while also being able to change the font size and color.
To start, you must name your article with a title to distinguish between each one created. This will the searchable title of the article.

PRO TIP: You can create "Additional Titles" so that users can search for multiple keywords that may be related to an Article
Next, create an article by typing directly into the Answer field. For the purpose of this article, we'll keep our example straightforward, but you are free to play with the content settings as much as you'd like.
If you already have existing articles, you can paste the link to the URL field. This will give users a button to access the full page where the document live.
The Trigger and Search tabs function the same on Articles as it does on all other Simpo Plus Tools. This options give you the control on when this content appears and whom it is visible too. To read more about Trigger and Search, check out our article on it here.
---
Integrating your Help Articles
If you already have an existing Knowledge Base or Help Article data, you can directly integrate that system into Simpo Plus for your end-users to start utilizing right away. In order to do this, click on the Article Simpo Plus tool and go to the Settings button in the top right-hand corner

Once you are on the Article Setting page, you will see the option for Article Integration with several common Knowledge Base providers. You can choose from our existing options to start directly integrating your help articles into Simpo!
Check out our guides on how to integrate your Articles
here!

Once you have completed integrating your Help Articles into Simpo Plus, you will be able to see those Articles now contained with your Article Dashboard.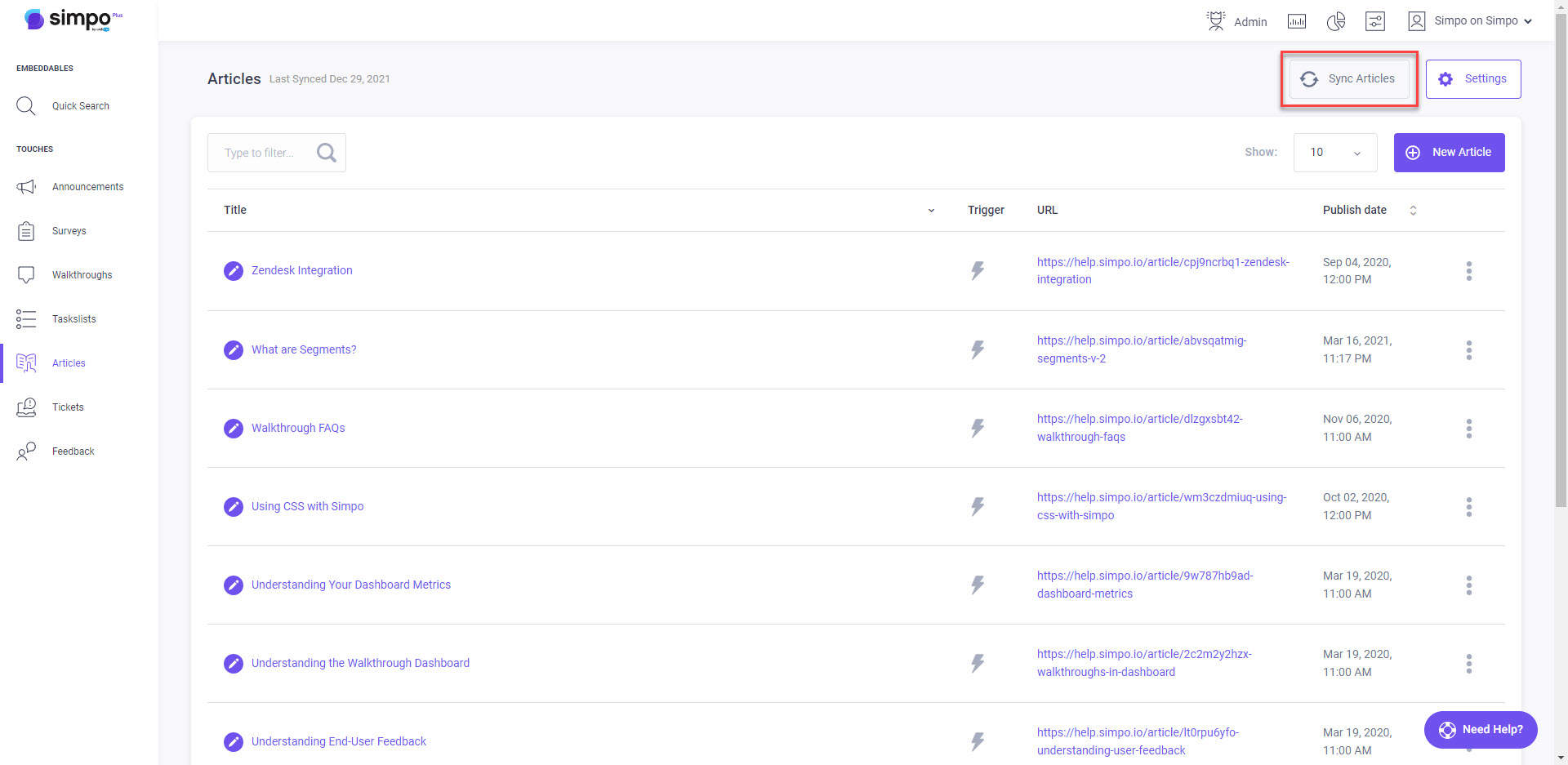 From the Article Dashboard, you are able to force Sync Articles to make instant updates. If you do not force update your articles will automatically update on a 24-hour basis. If your knowledge base provider is not listed in the pre-existing dropdown menu, please reach out to support@simpo.io and we may be able to assist in creating a custom integration for you!
If you integrate your Help Articles from a third-party vendor, you will not be able to make editing changes to the articles inside of Simpo Plus as all changes must be made from the third-party vendor to ensure a single source of truth.
---
Article Analytics
Once you have either built or integrated Articles and have published them to your users, you can view a variety of analytics related to their usage. There you can view the total number of views, the average reading time, and an aggregated view of feedback from users.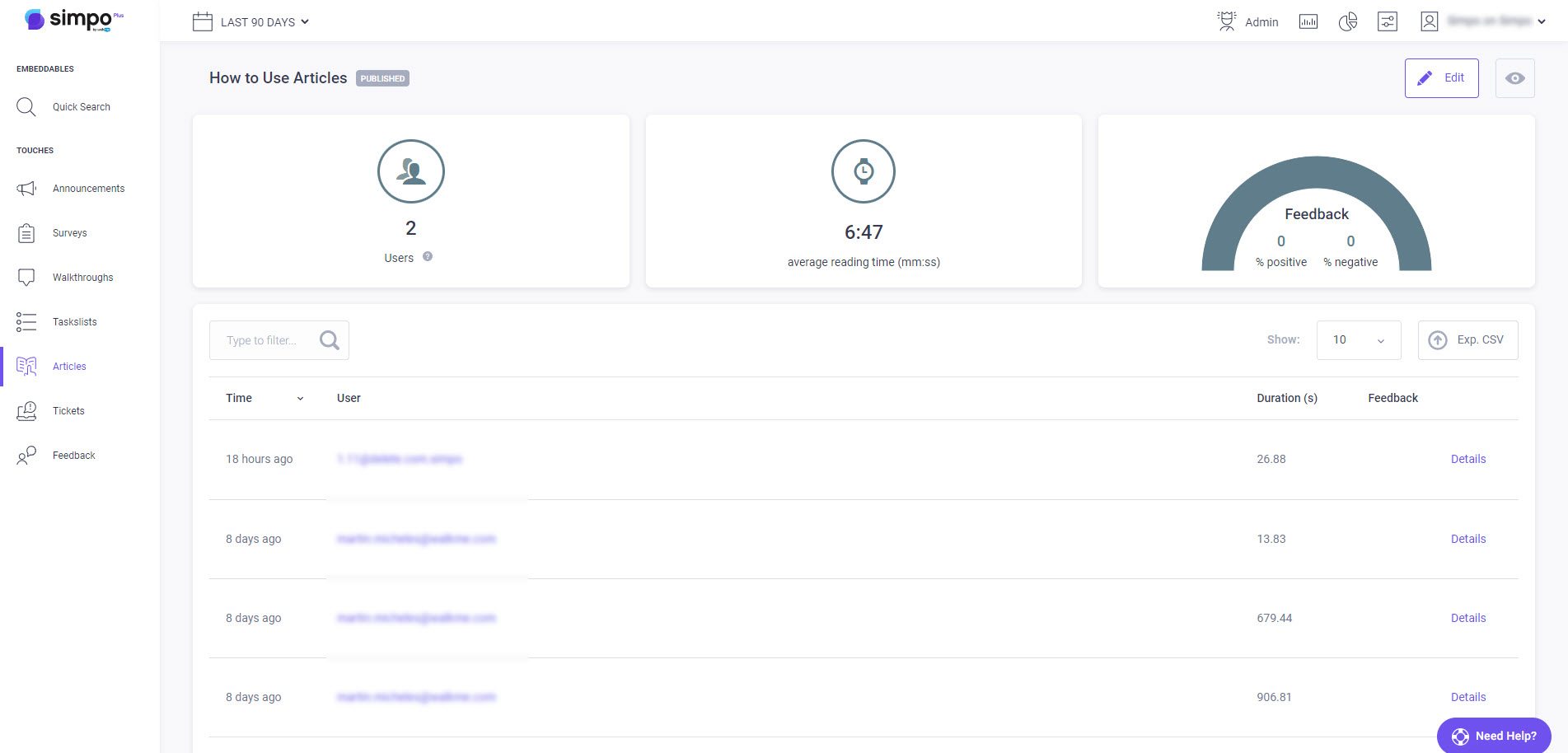 Underneath the analytics of the Article, you can view the feedback left by individual users. Clicking on a score's Details will show user comments if any were left and any other actions taken by the user in their session.

---
Accessing Article Analytics
Click on Articles from the Navigation Bar.

Click on the title of the Article.

Click on the Analytics button found in the upper-righthand corner of the page.

---
---