Configuration Page
---
Simpo's Configuration Page is where changes can be made to your account on a global level. There, you can find settings for the Simpo Widget, Search and Article appearance, Simpo's installation path, and more.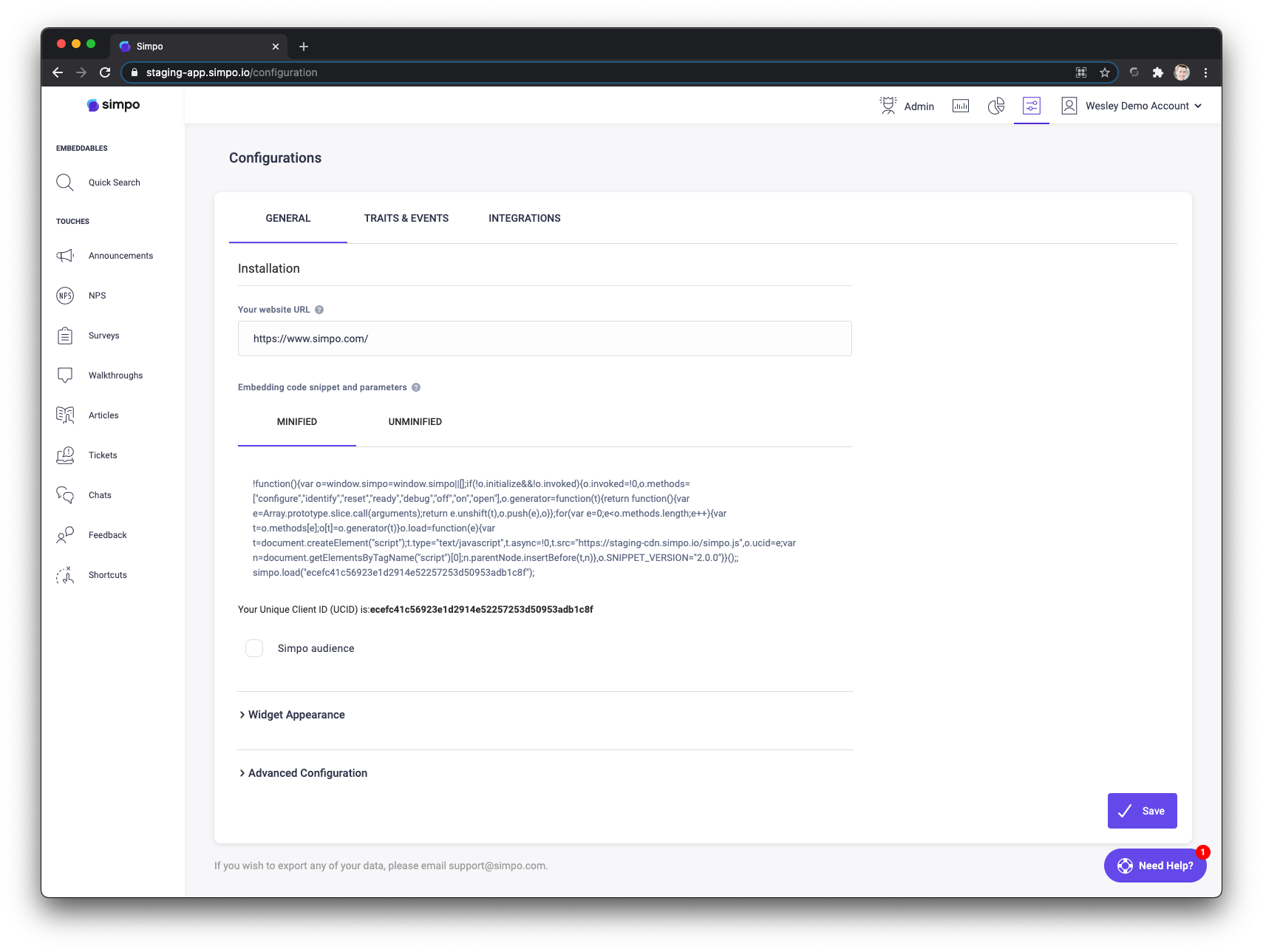 Please reach out to your Customer Success Representative or reach us at
support@simpo.com
if you are unsure of any of the options found on the Configuration Page. We are always happy to assist!
Where is the Simpo Configuration Page?
---
The Configuration Page can be accessed from any dashboard page by clicking the gear icon in the upper-righthand corner, next to your account name.

Configuration Page Settings
General Tab
---
The General tab is where you can find settings for installation, tool appearance, and other global settings for your Simpo account.
Embedding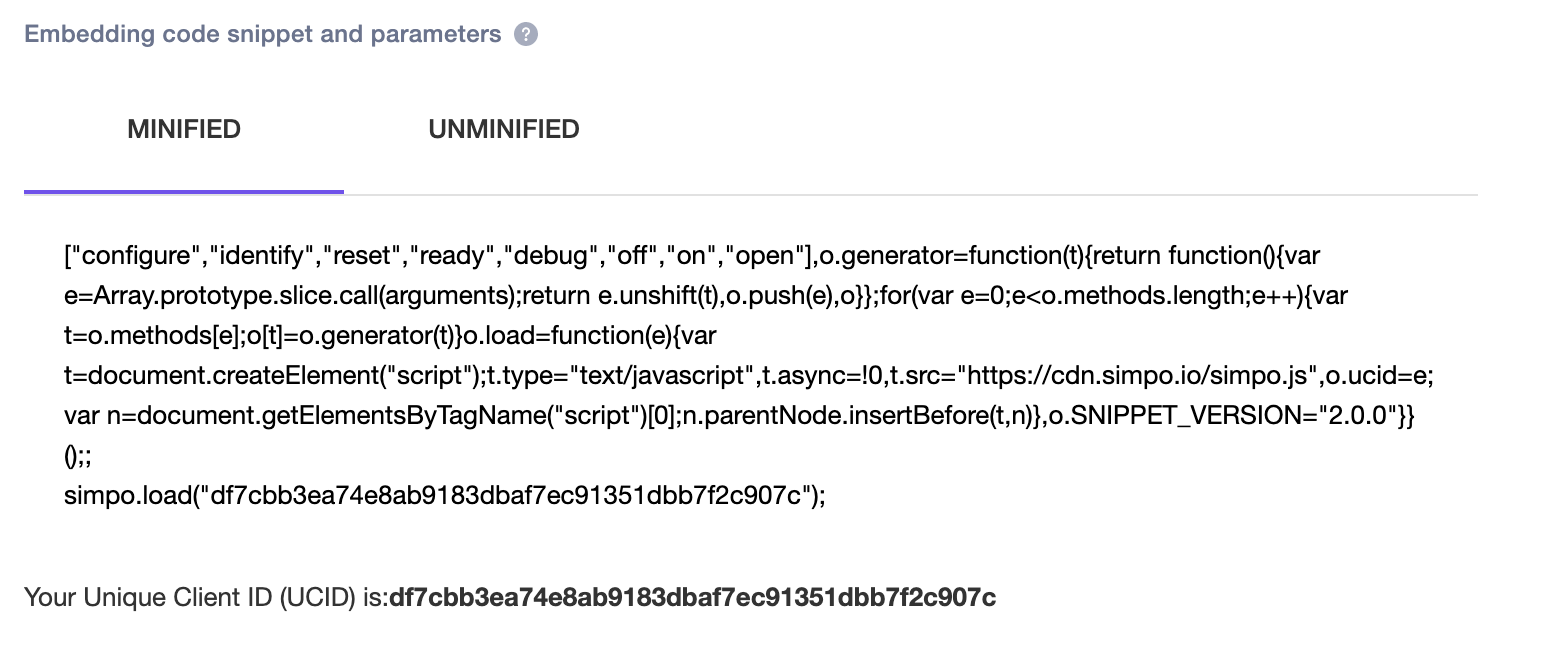 You can view both the Minified and Unminified versions of Simpo's JavaScript here. Below, you can also find your Unique Client ID (UCID).
What's the difference between Minified and Unminified code?

Typically, unminified code is easier for developers to work with but does not perform quite as well as minified code due to the larger size. As such, we recommend using the minified snippet when installing Simpo on production sites for optimal performance.
Widget Appearance
These options allow you to modify the look of your Simpo Widget (or Launchpad).

The Text field allows you to change the text on the widget.
Text Color changes the color of the text found on the widget. We recommend using white or black to ensure visibility.
Background Color changes the color of the widget itself. Use the color slider or input hex code to match your brand's color perfectly.
The CSS Field allows you to input your own custom CSS to modify the widget at a deeper level.
Application Appearance
---

The Application Appearance field allows changes to be made to the appearance of Simpo's Search Bar and Article windows using CSS.
Additional Configuration
---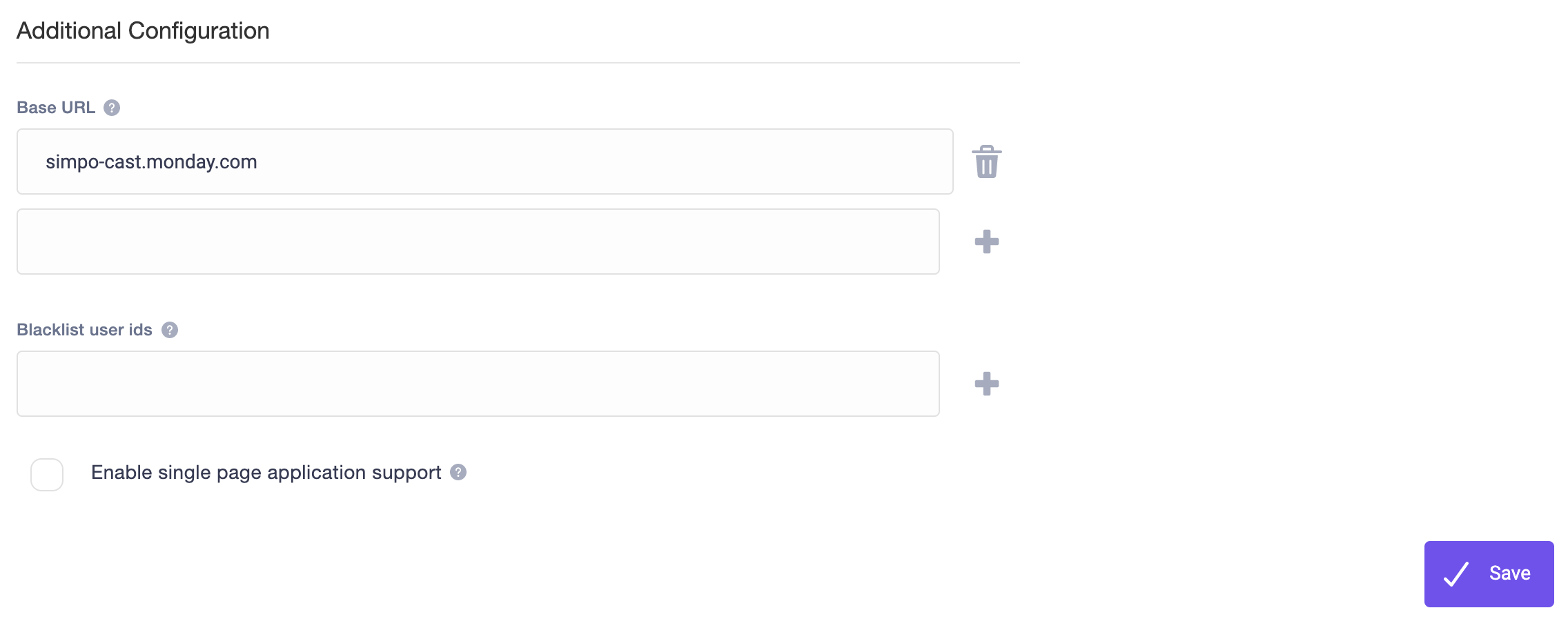 The Base URL is the domain name of the site where Simpo is installed. Using a Google search as an example, the Base URL would be google.com.
The Full Site URL is the entire URL of the site where Simpo is installed. Using a Google search as an example, the Full Site URL would be https://www.google.com/search.
Enable Single Page Application Support if you have a "single-page" application. This allows Simpo to pull information constantly without waiting for a page refresh.
Simpo Audience is a global segment option for all of Simpo. If you want all of Simpo to be visible to a particular audience or area of your platform, set it here.
Both the Base URL and Full Site URL must stem from the same URL for Simpo to function. Changing either of these URLs is likely to cause your Simpo tools to break!
---
Traits & Events Tab
The Traits & Events tab is where you can view all Traits and Activites currently being passed into your Simpo account. There, you can search for specific parameters, view their display names, type, and when they were last used.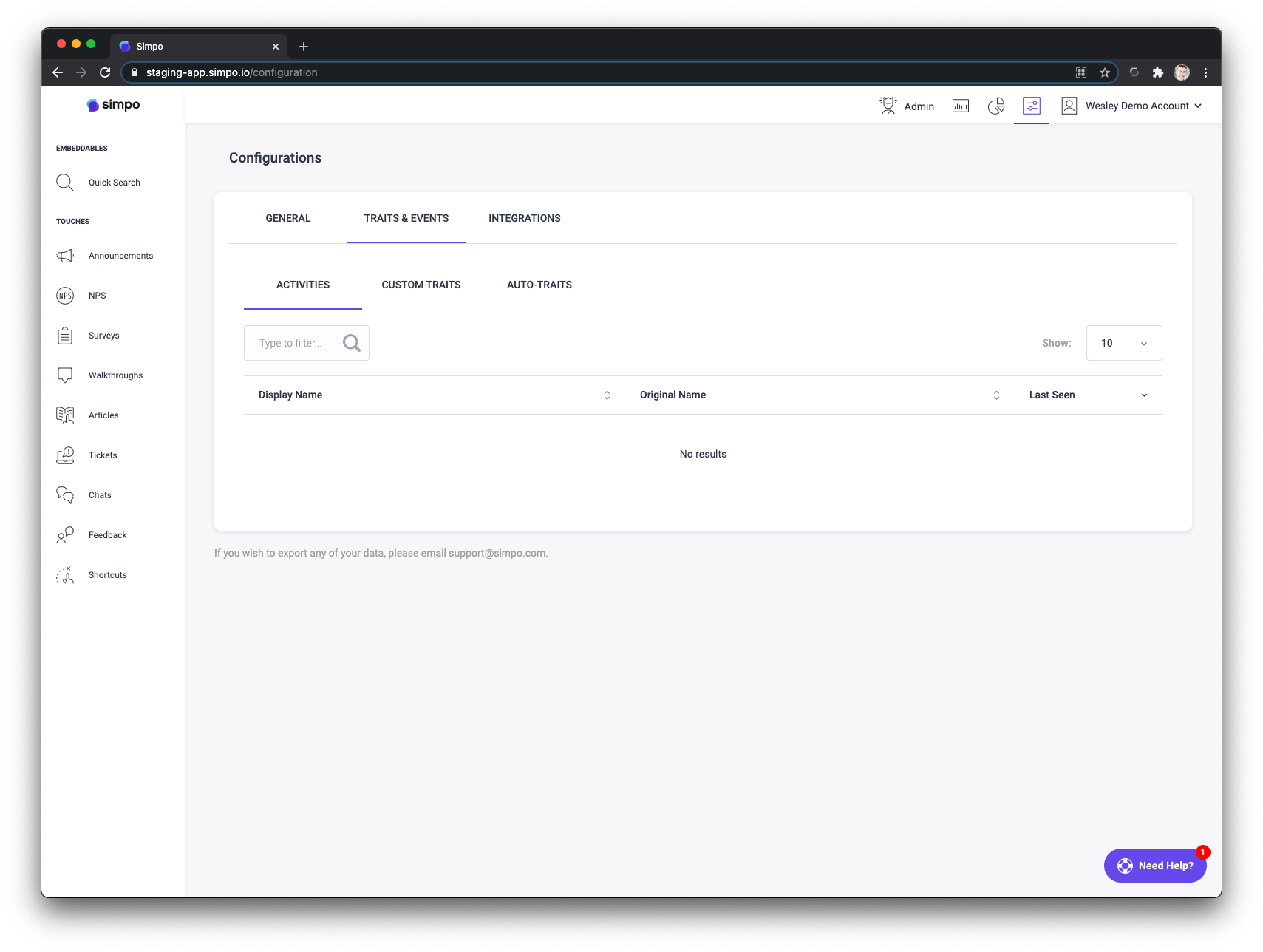 Integrations Tab
The Integrations Tab is where you can the available outbound integrations that Simpo supports. Here, you can enable integrations with a single click! When enabled, Simpo pushes data captured on the platform to your favorite tools.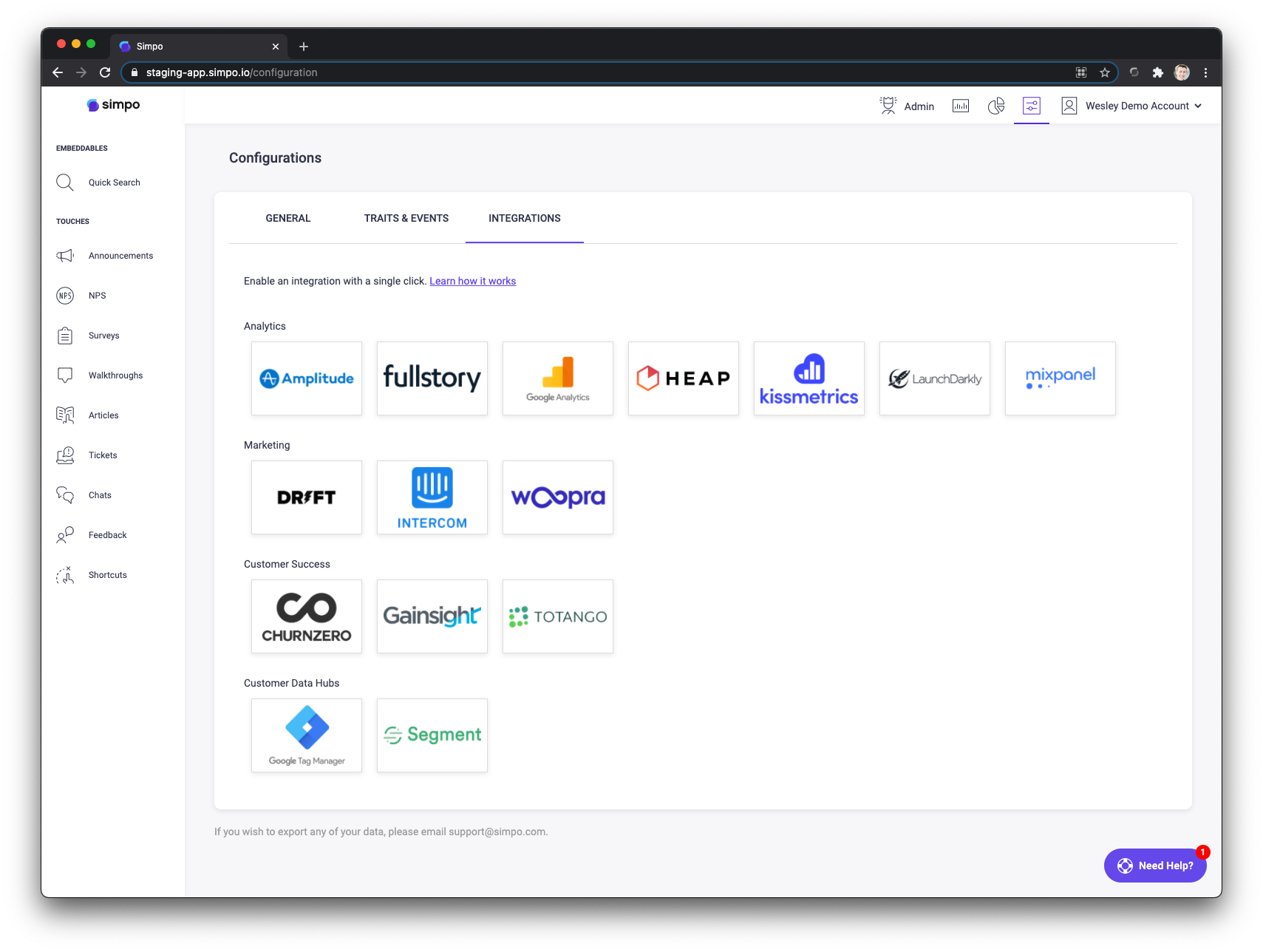 Learn more about how our integrations work
here
.
---
---