Triggers and Search
Simpo Plus Triggers are an extremely powerful feature that allows you to control the "Who, Where, and How Often" a specific Simpo Plus Tool is displayed to your end-users.
Triggers give you more control and flexibility over your Audiences and how you interact with your end-users. With them, you can create seamless user journeys and empower your end-users through in-app learning.
Triggers
When creating your Simpo Plus Tools, you now have a new tab called "TRIGGER" which you can access once you have finished creating your content. If you click on "TRIGGER" you can now start tailoring Who, Where, and How Often you want to release your Simpo Tool.
Creating a Trigger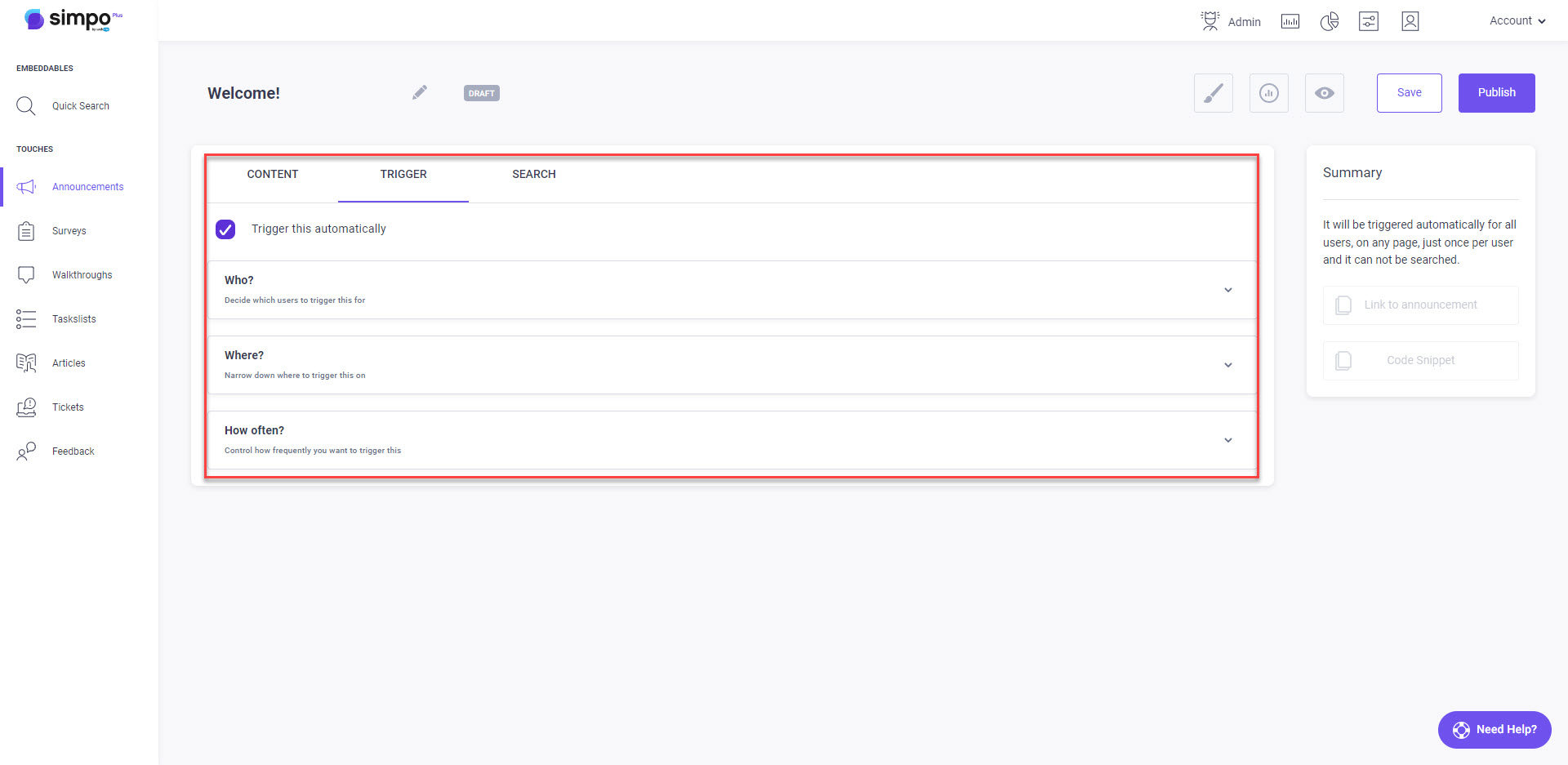 On the "TRIGGER" page, you can see our three prompting questions: Who, Where, and How Often.
Who allows you to decide which user this Simpo Plus Tool is for.
Where allows you to decide where the Simpo Plus Tool will be published.
How Often allows you to edit the frequency of when your content will be released to end-users.
De-selecting the "Trigger tool Automatically" will prevent the Touch from appearing automatically to users. Note that the tool may still be searchable via Quick Search depending on your selections on the "SEARCH" tab.
If you click on the Who option, you will then see the ability to start configuring the specific Segment of who you want to see this content.
From here you can use a Saved Segment (aka Global Segment) or you can create a Custom Segment where you have access to all of Simpo Plus's Segment options including Traits, Activities, or Simpo Plus Touches.
If you select the Where option, you have the ability to decide where the Simpo Plus Tool will be displayed to the end-user. You have the ability to do this by a specific URL Page or on a specific Element.
And finally, if you select the How Often option you can start editing the frequency of when you want the Simpo Plus Touch to be published to end-users.
The HOW OFTEN trigger does not have an end-date so in order to stop the Simpo Tool from publishing, you will need to unpublish the Simpo Tool or edit the HOW OFTEN section.
PRO TIP: You can use any combination of WHO, WHERE, and HOW OFTEN in order to create the most valuable Trigger for your Simpo content and its audience.
Reviewing the Trigger
Once you have created your Trigger, you are able to review your rules on the Summary page. The Summary will give you a description of your Trigger so you can easily understand the rules set and make any necessary changes in the future.
PRO TIP: You can use the LINK and CODE SNIPPET in order to share your Simpo Plus tools across any platform or connect Simpo Plus tool together!
Search
The Search tab is where you can control the visibility of your content in the Simpo Plus Quick Search tool.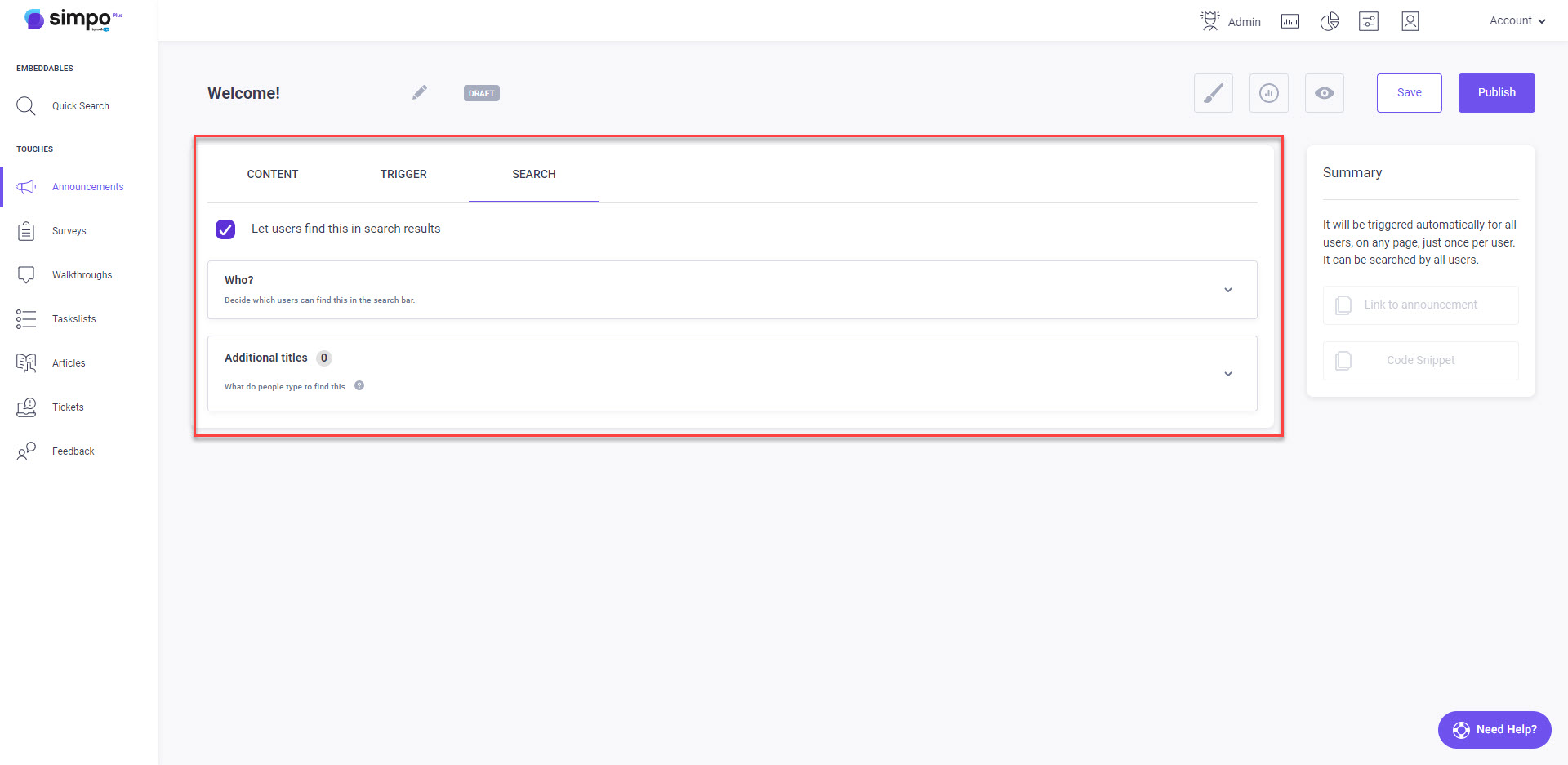 The first checkbox will toggle the appearance of your content when using quick searching. Some tools have this checked by default (Walkthroughs), others do not (Announcements).
Similar to Triggers, the Who field lets you segment the search result to a particular user group rather than have the search result accessible to all users.
Finally, the Additional Titles field allows you to create alternative titles by which your users can find this content by.
For example, you have an Article titled "FAQ" and you want to make it easier for users to find. You can give them the additional titles "help" and "getting started" so that the Article appears when those terms are searched.
Once you have reviewed the Trigger and Search settings, you can then publish the Simpo Tool via the PUBLISH button
If you have any questions or need further assistance please email us at
support@simpo.io
---
---