How to Use Announcements
---
What's an Announcement?
The Announcement app is used to update, share a statement, and act as an overall welcome to the website for a first-time user.
An announcement should be short and sweet, but efficient in drawing attention to your site.
How to Create an Announcement
---
To create a new announcement, click the "new" button with plus symbol located top right on the page.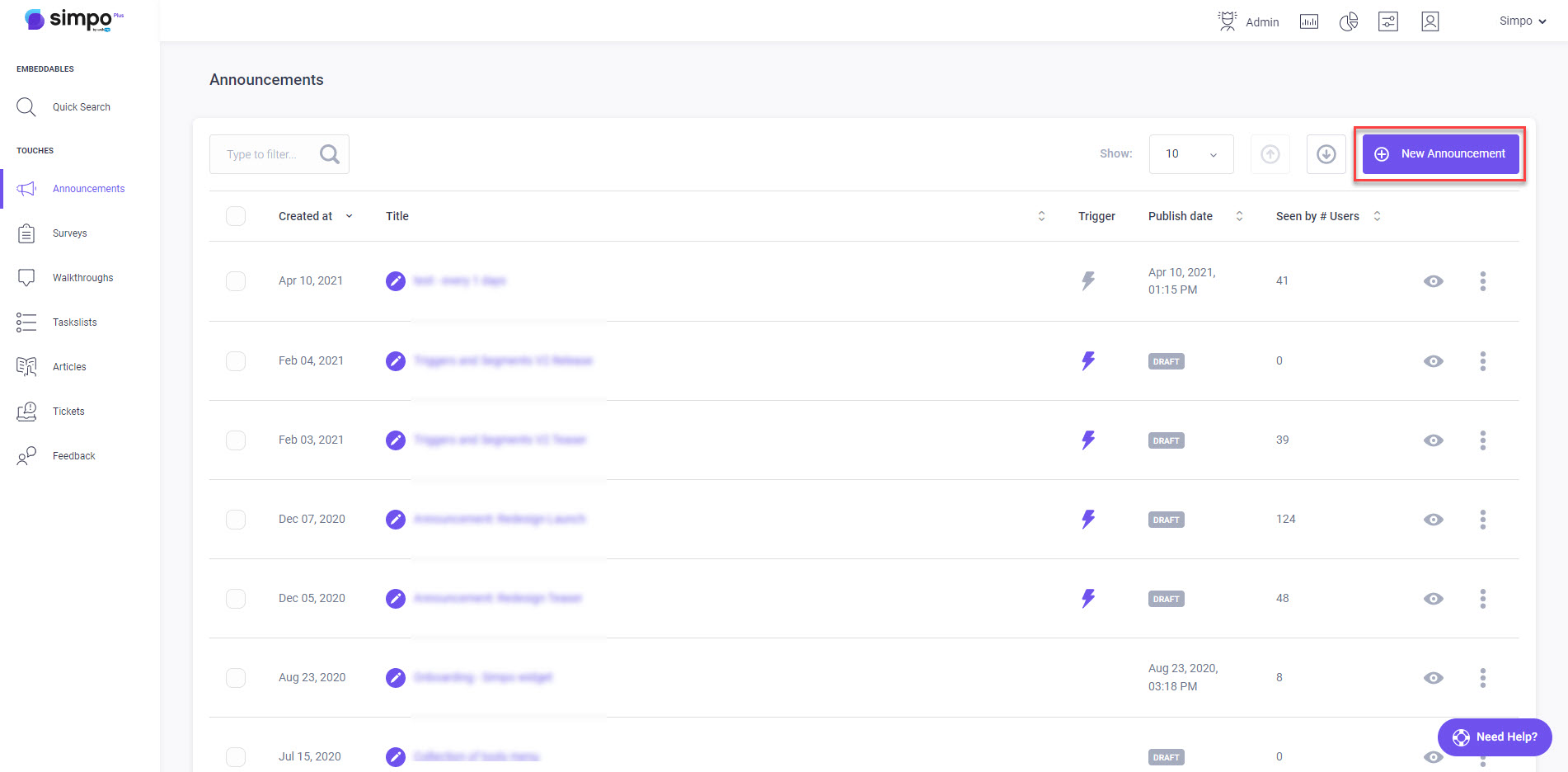 The exact number of announcements drafted and published, are visible through the blue circle next to "Announcements."
Content Tab
---
The Content section is used to customize and build your announcement, which can be as simple or as complicated as you'd like. In this section, you have the ability to add photos, links, headers, quotes, and lists, while also being able to change the font size and color.
To start, you must name your announcement with a title to distinguish between each one created, but this won't be visible to users. Next, create an announcement by typing directly into the rectangular bar. For the purpose of this article, we'll keep our example straightforward, but you are free to play with the content settings as much as you'd like.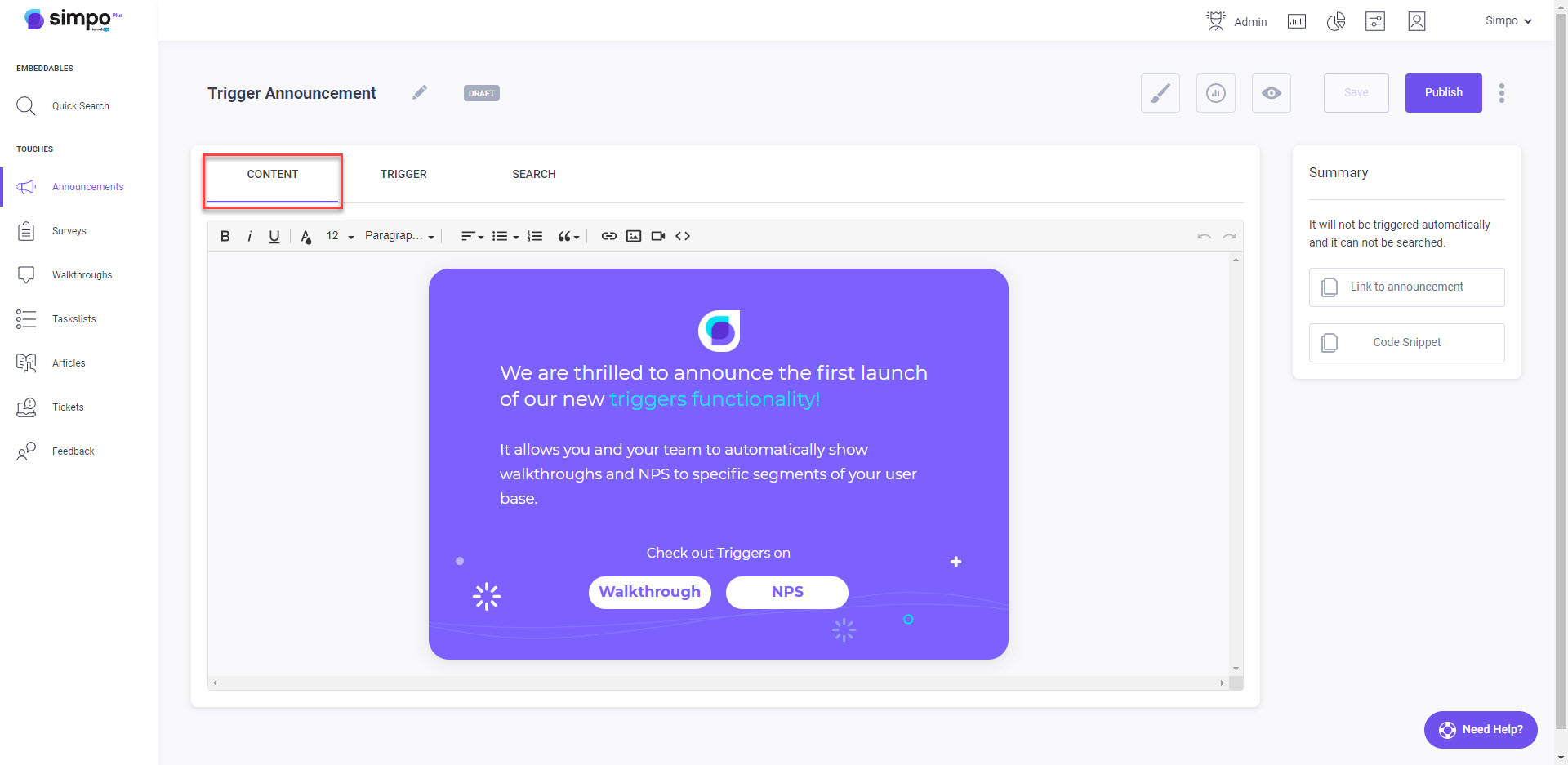 Trigger Tab
---
You are now able to control your Announcements with Triggers as seen below. With Triggers, you are able to control exactly, Who?, Where?, and How often? an end-user see's an announcement. To read more about Triggers and their functionality, check out our dedicated article here.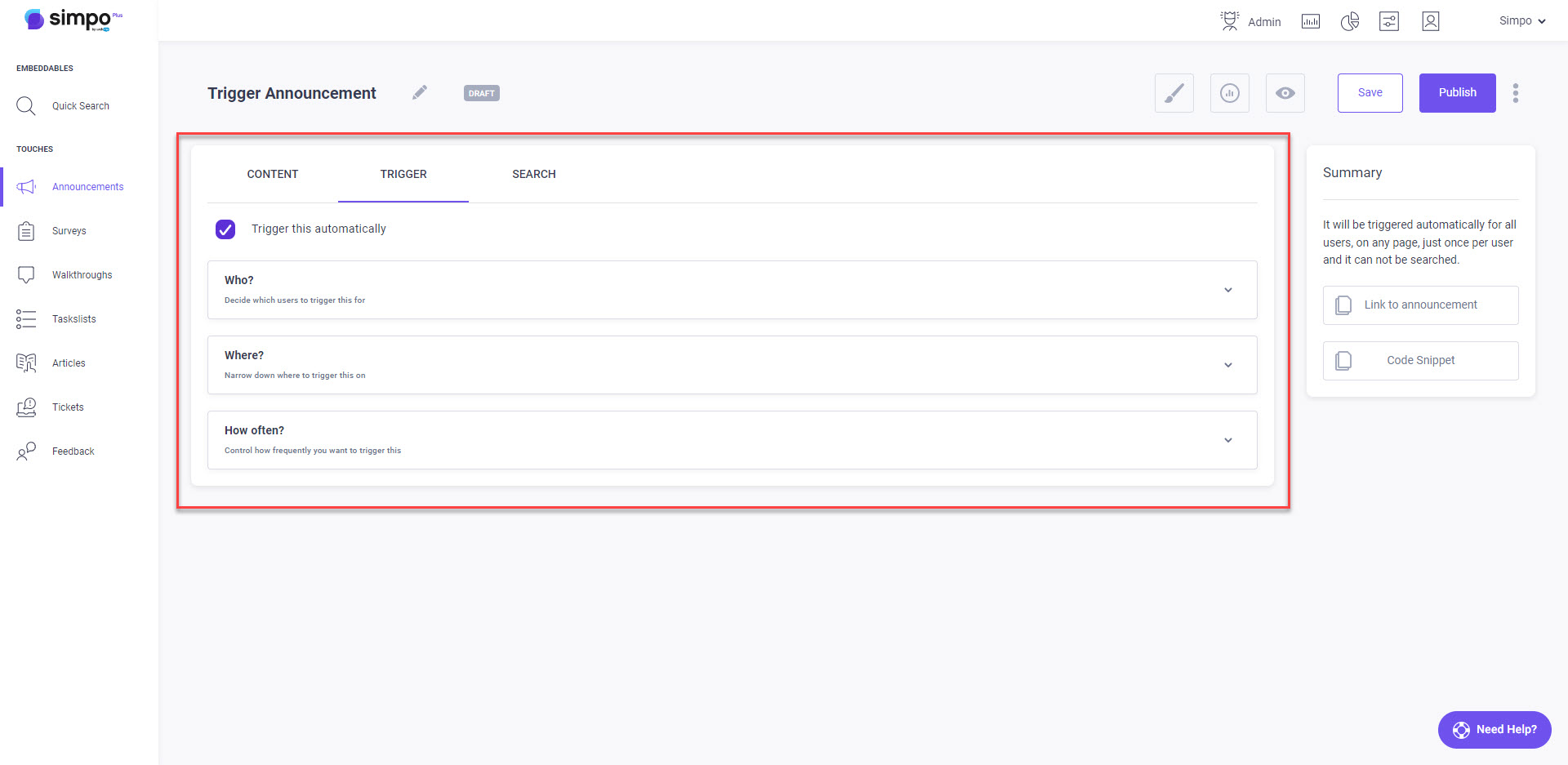 Search Tab
---
Now, with Announcements you are able to make them searchable within the Simpo Plus Search Bar. In order to make the Announcement searchable, all you need to do is select the Let users find this in search results and it will be available for your users to access.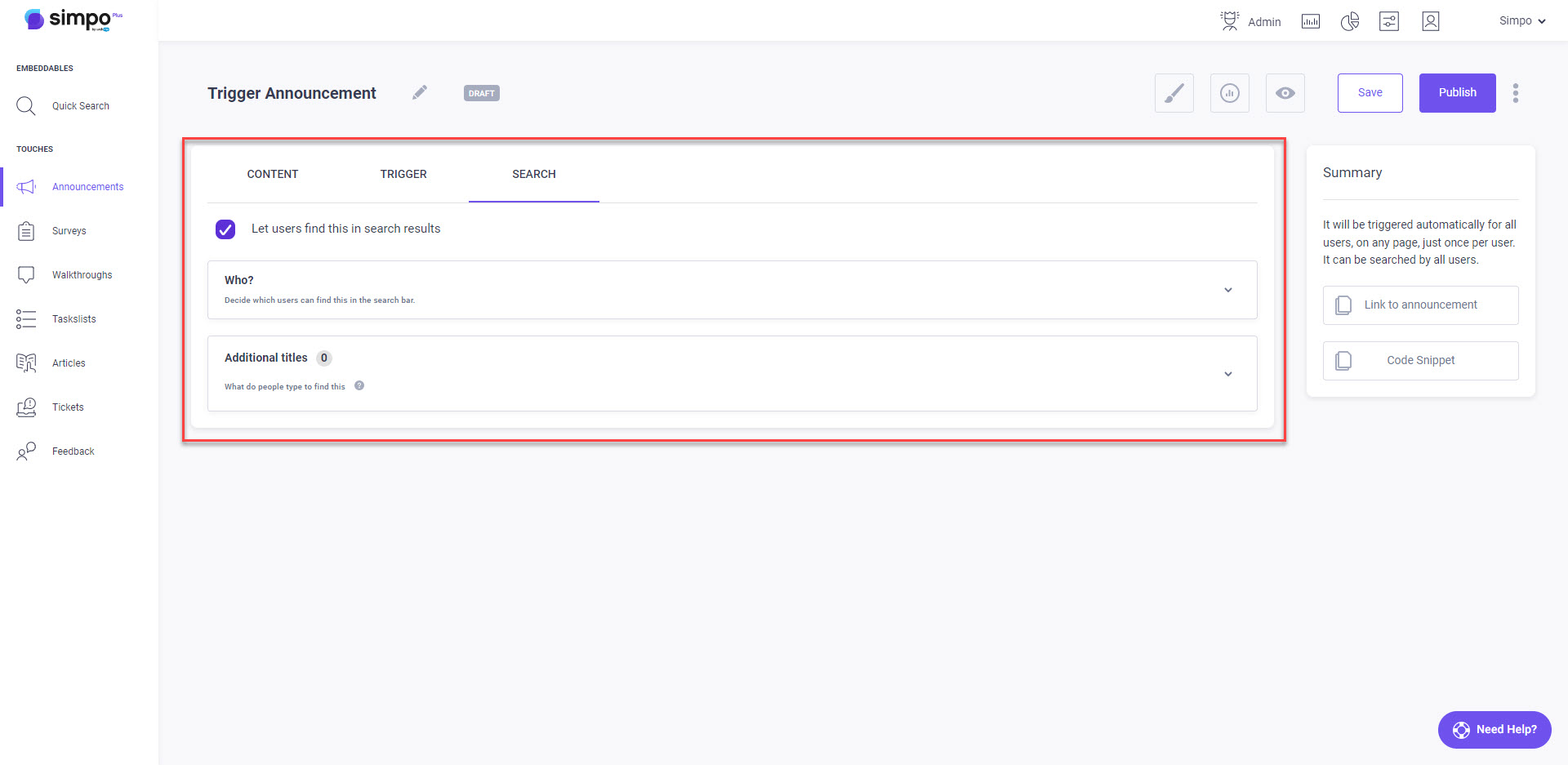 PRO TIP: The default settings for Announcements is to NOT be searchable for users. You will have to select this option for the Announcement to be searchable for users.
API Code and Link To Announcement
Found to the side of the Announcement builder you are provided with the API code (Application Programming Interface) and a direct link to the Announcement. These two options give you flexibility in how you want to release Announcements to your users and how they want to be accessed.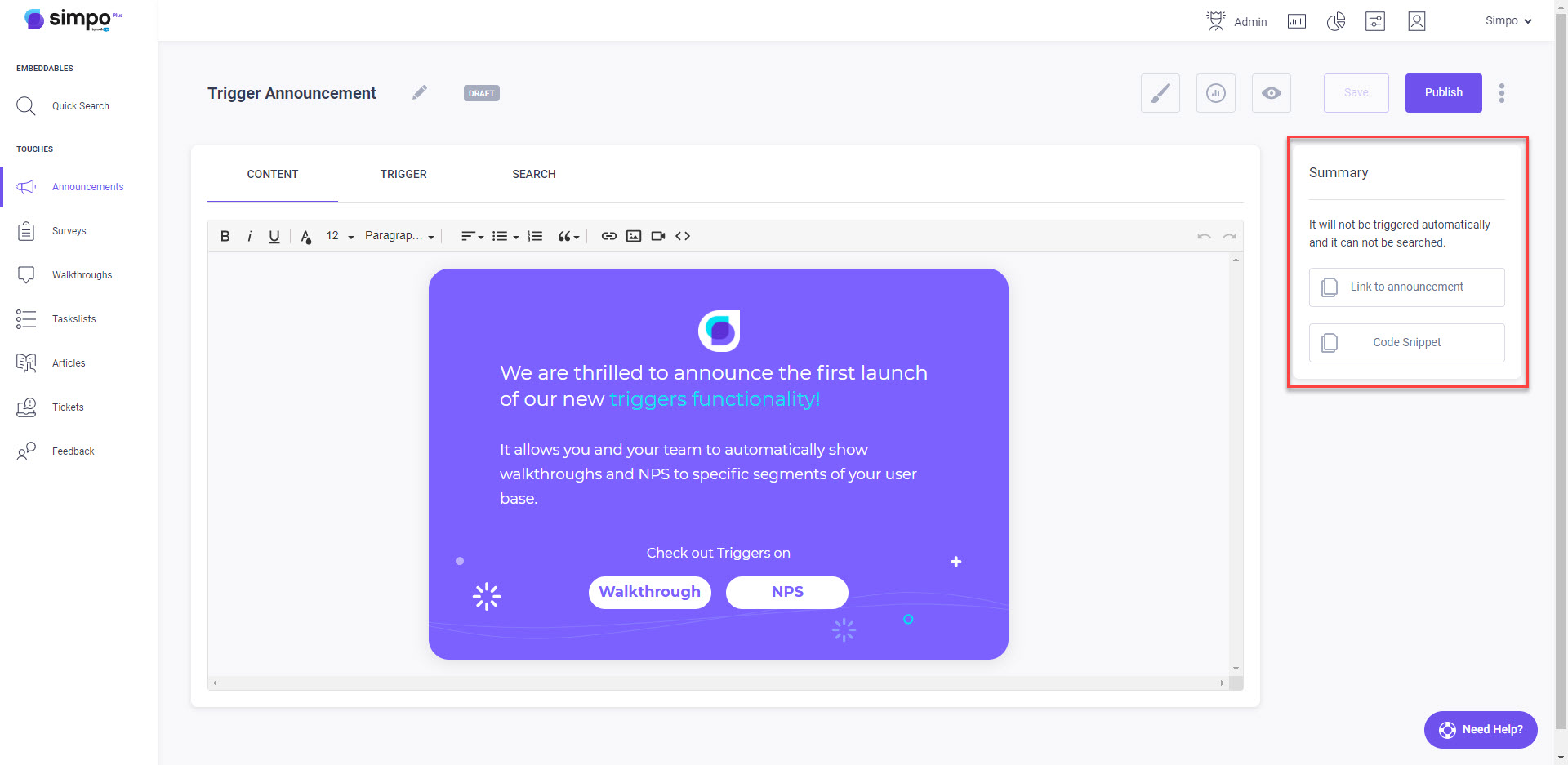 Announcements will appear only once for a user, but this can be fixed by changing the Triggers or by using the Code Snippet.
Design Drawer
---
On Simpo Plus Announcements you the ability to easily and quickly update the Announcement Design via the Simpo Plus Design drawer. Here, you have the ability to customize the Announcements: Size, Background, Padding, Border, and Whitespace.
PRO TIP: In the Advanced Section of the Design Drawer you are able to apply your own custom CSS (Cascading Style Sheets) and this allows you to fully customize the Announcement to meet and match your brand.
Found below is a basic example of what can be created using the Design Drawer feature. Simply use the design options to customize how you want your Announcement to look and feel for your end-users.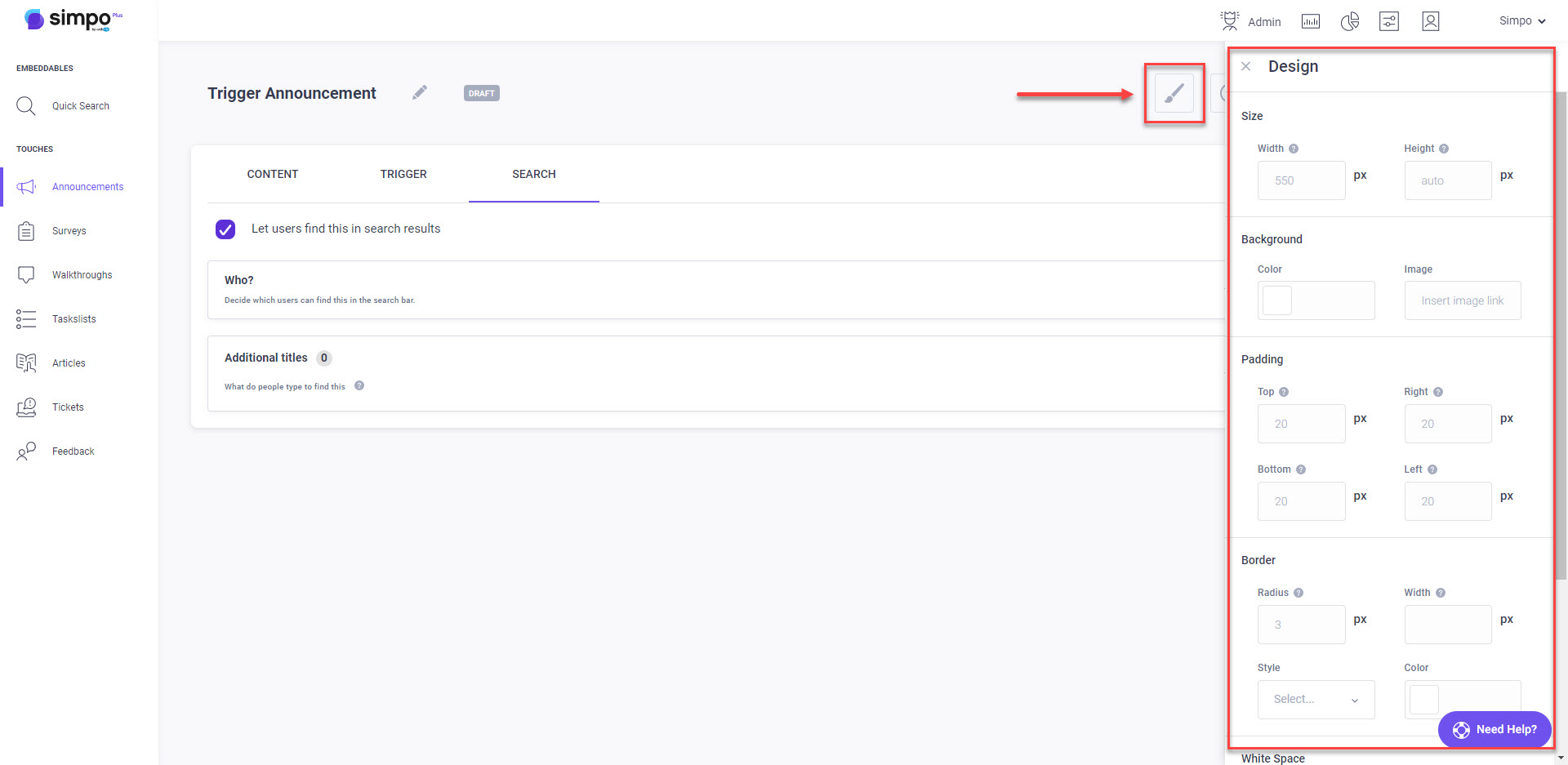 PRO TIP: If you aren't sure how to use CSS, please reach out to
support@simpo.io
and we are happy to help with any design!
The Preview button located top-right of your announcement on the design page shows a preview of what your announcement will look like once it has been published. Upon clicking this button, you will notice that to bring attention to your announcement, there is a sheer grey background, called "expose," displayed against the rest of your site.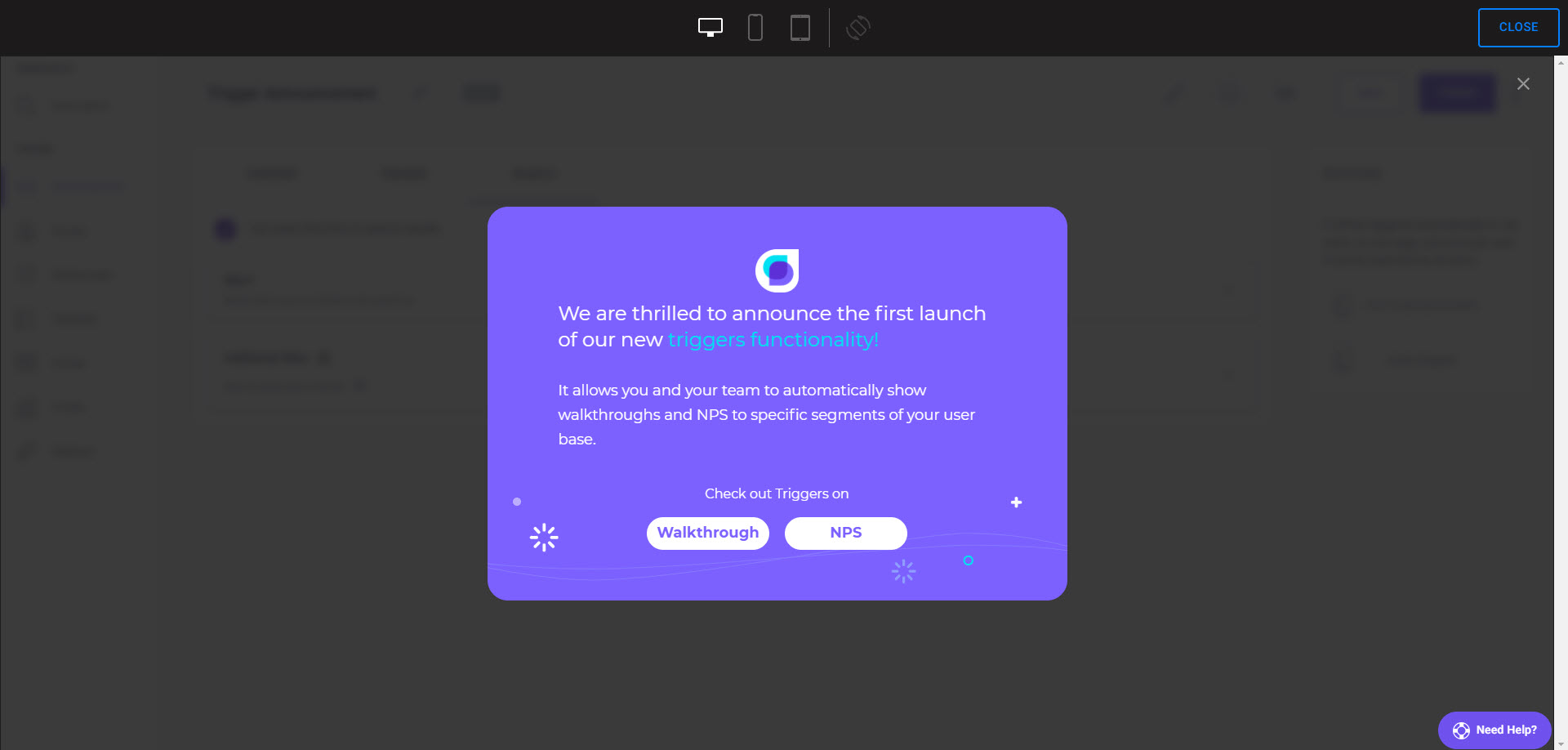 Publishing an Announcement
---
Once you've completed creating, designing, and assigning a place for your announcement, you can either save as a draft or publish it. If you save your announcement as a draft, you can edit and preview through the main announcement page before publishing.
As a precautionary measure, if you've published your announcement, it will take 30 seconds after publishing to actually be visible on your website. Once the 30 seconds are up, you'll be able to access your announcement on your whole site, or in a specific area if you've decided to enable the audience feature.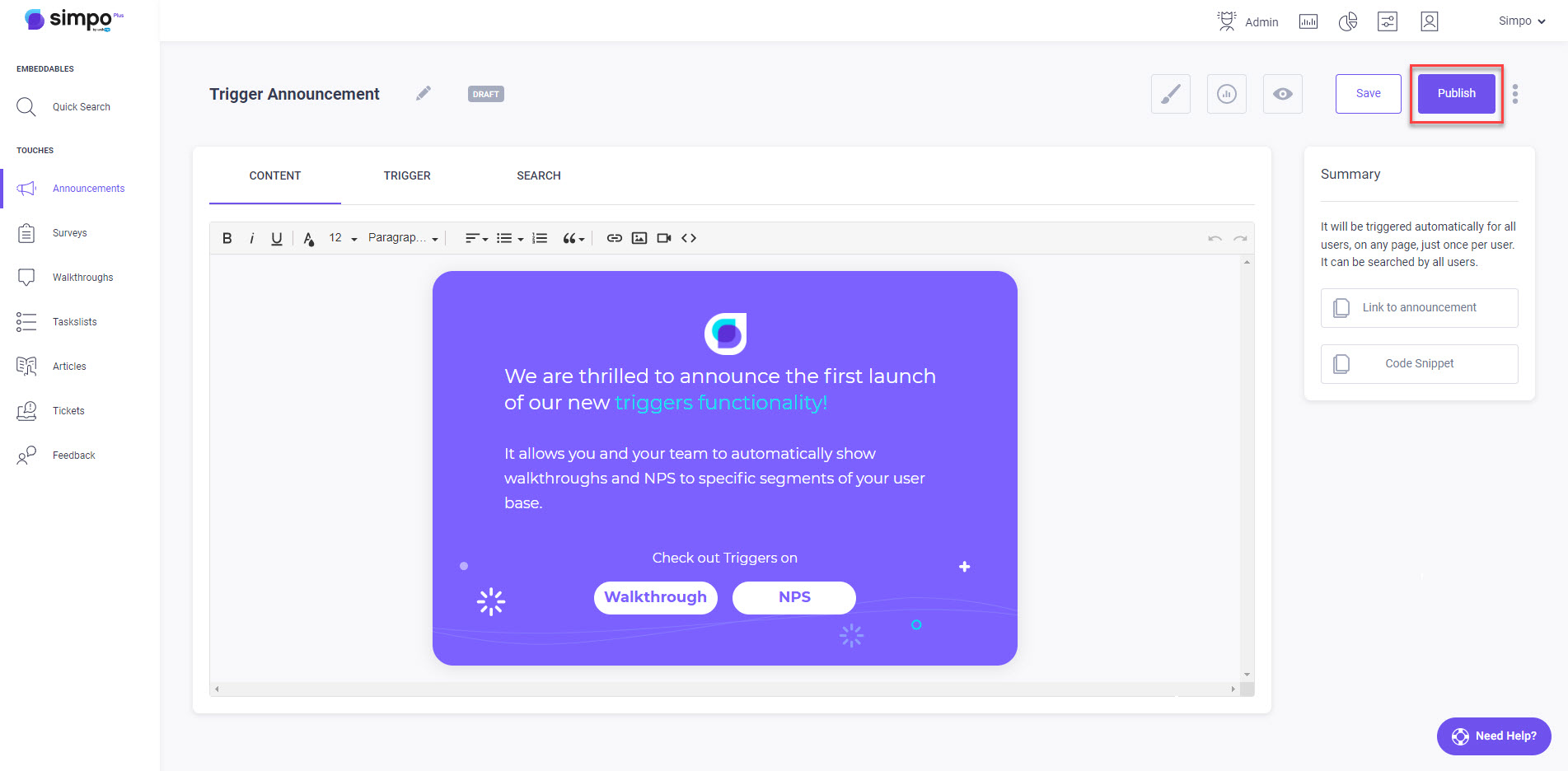 If you would like to unpublish an announcement, click on the respective announcement to edit, then press the "unpublish" button (the same spot as the "publish" button). Once you've unpublished the announcement, it will be saved as a draft.
The 30-second precautionary feature only applies to publishing an announcement, therefore, unpublishing will happen immediately.
Have more than one announcement you'd like to share with your viewers?
---
You're able to publish multiple announcements that will display after one another upon page refreshment. These announcements will appear at the same time but will display through a scrollable list in the order of when they were published.
Multiple announcements will appear together through a scrollable list in the order of when they were published.
If you've linked your announcement with an survey, the announcement will be visible first, then the survey will appear once the user refreshes their page or visits a new one.
The announcement will be shown only once per user. If you've published an announcement, then deleted it sometime after, a user who originally didn't see the published announcement will never see it because it has now been unpublished.
A published announcement cannot be edited. In order to edit, simply unpublish the announcement or duplicate it.
How to Duplicate an Announcement
---
The "duplicate" feature gives the option to replicate an announcement and saves time instead of creating a new one from scratch. Besides unpublishing, duplicating your announcement is the only other solution for a published announcement to be edited. After duplicating, you can edit, design, and add an audience. To do this, click on the announcement, then press the Duplicate button.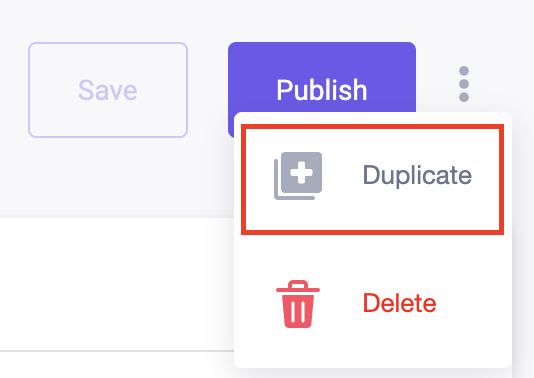 How to Delete an Announcement
---
To remove your announcement, click on it, then press the "delete" button. Doing so, the announcement will be deleted immediately.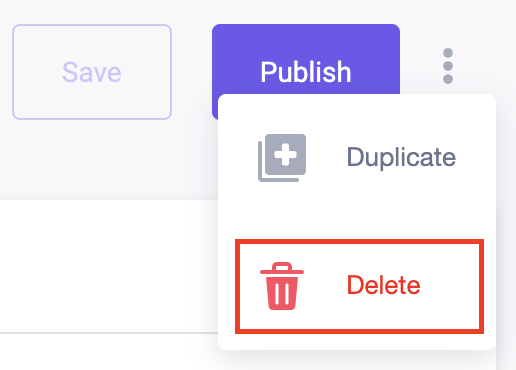 If you have any questions about how to create and manage
Announcements
, please reach out to
support@simpo.io
and we are happy to help!

---
---