Understanding Shortcut Metrics
---
In the Shortcuts dashboard, shortcuts are displayed as a list and can be filtered by name, edited, duplicated, and deleted. From the Shortcut dashboard, you can quickly review:
the number of started Shortcuts
the number of completed Shortcuts
the % success of each Shortcut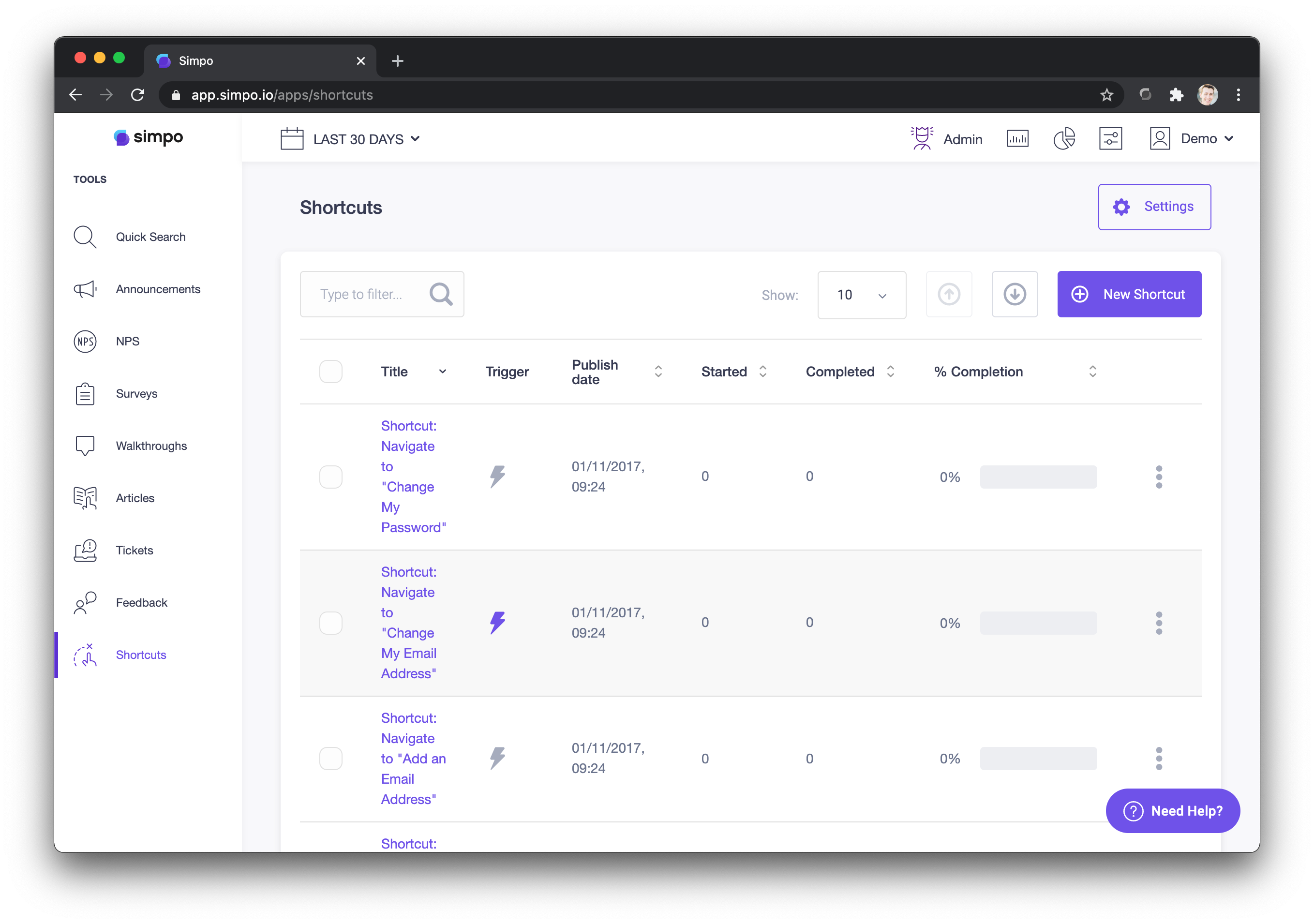 Shortcut Analytics
You can access the analytics captured for each Shortcut by clicking on the Analytics button in the top right corner of the page: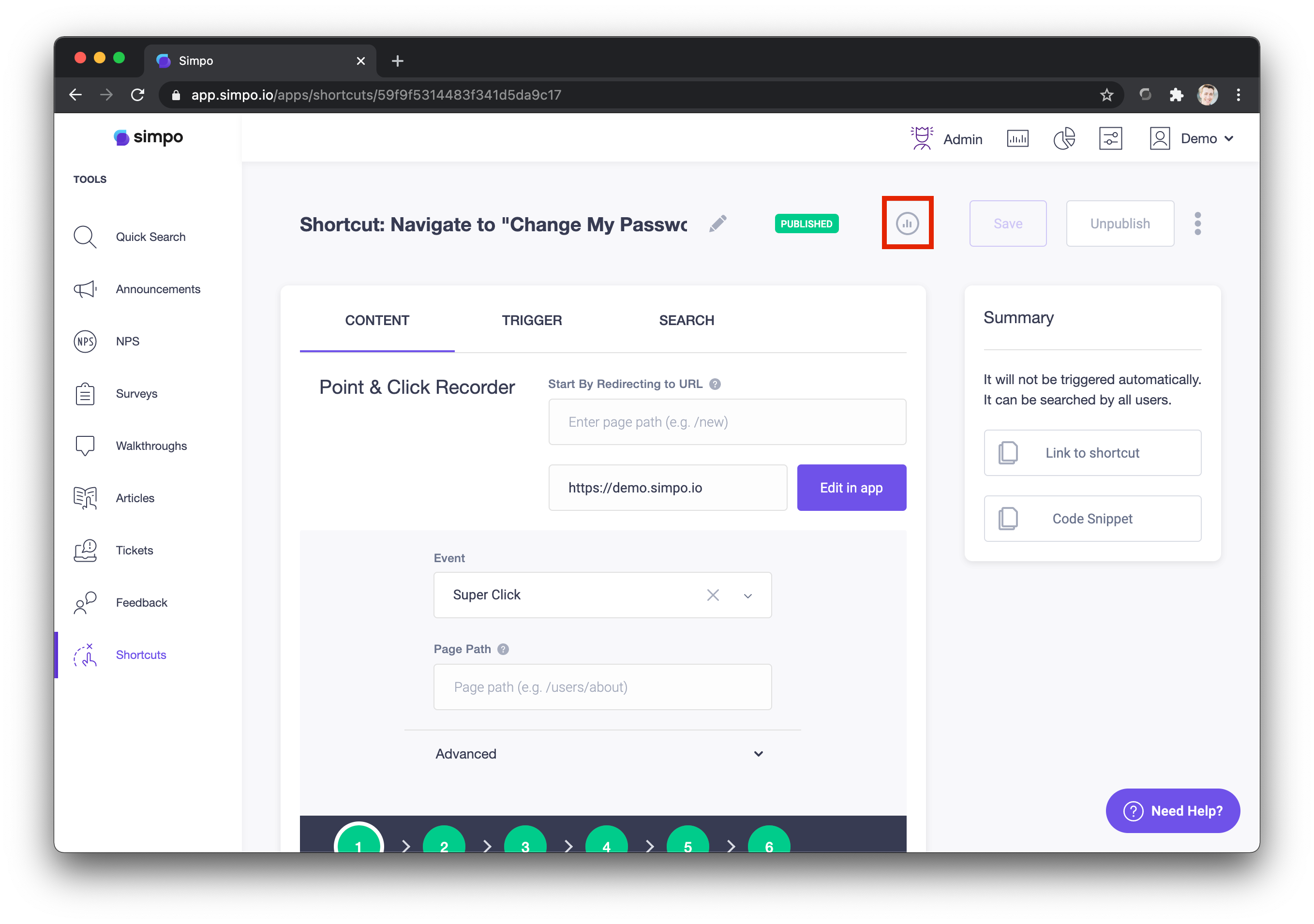 Once you have arrived into your Shortcut Analytics you can now start understanding how users are interacting with the Shortcut as a whole.
In the Analytics page you will be able to see:
Number of unique end-users who interacted with the Shortcut
Average duration of the Shortcut
Feedback based on end-user feedbacl
The individual users who have taken the Shortcut
PRO TIP: We generally see a 50% positive feedback score is the benchmark! If you have a Shortcut with a below 50% positive feedback score, it may be smart to think about the length of the Shortcut or the value / impact it has for your end-users.
How can I see individual user data?
In order to drill further into the usage metrics for a specific Shortcut, all you need to do is click on the % Bar associated with that specific shortcut:
This will take you directly into the specific Shortcut's usage metrics on how individual users are interacting with your tool. From this page, you will be able to see:
When the user last interacted with the Shortcut
Who the user is
The duration of how long the user interacted with the Shortcut
The Status on if the user completed the Shortcut
PRO TIP: Passing
Simpo User IDs
makes your data very powerful as you then know exactly who is interacting with which Simpo Tool, and you can better assist your users.
To dive further into the individual user's interaction with the Shortcuts, you can click on the Details button on the right-hand side of the page: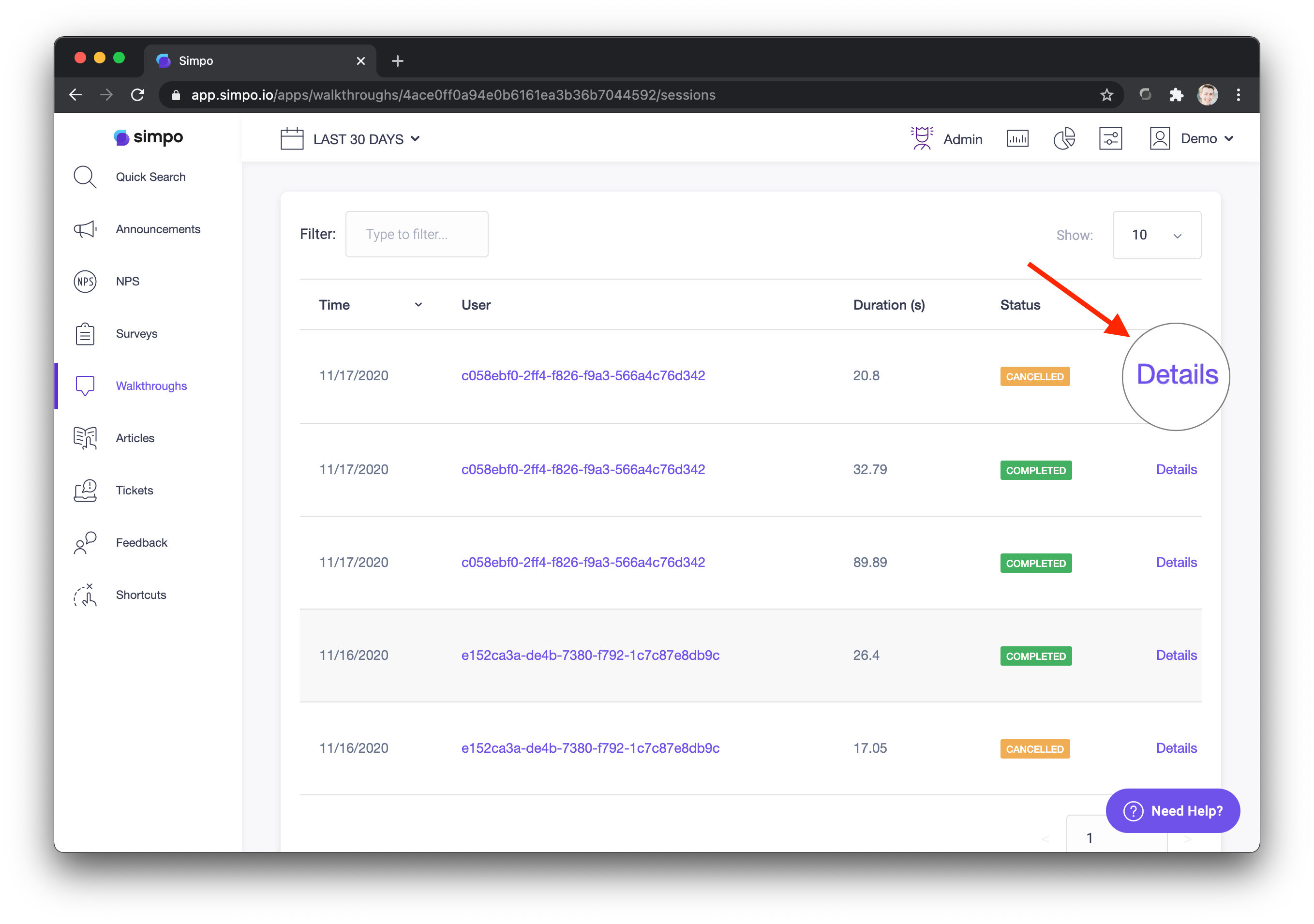 From the Details page, you are able to completely view the user's journey from start to end with the Shortcut.
Be aware of small sample sizes as these can skew the data. It is important to allow for enough user interactions to occur on Shortcut to get a full picture of how your end users are using the tool.
---
---