Understanding the Walkthrough Dashboard
In the dashboard, Walkthroughs are displayed as a list and can be filtered by name, edited, duplicated, and deleted. Also visible is the automatic trigger indicator, the number of users who started and completed each walkthrough, the completion rate calculated as a percentage using these two values, and the edit walkthrough button.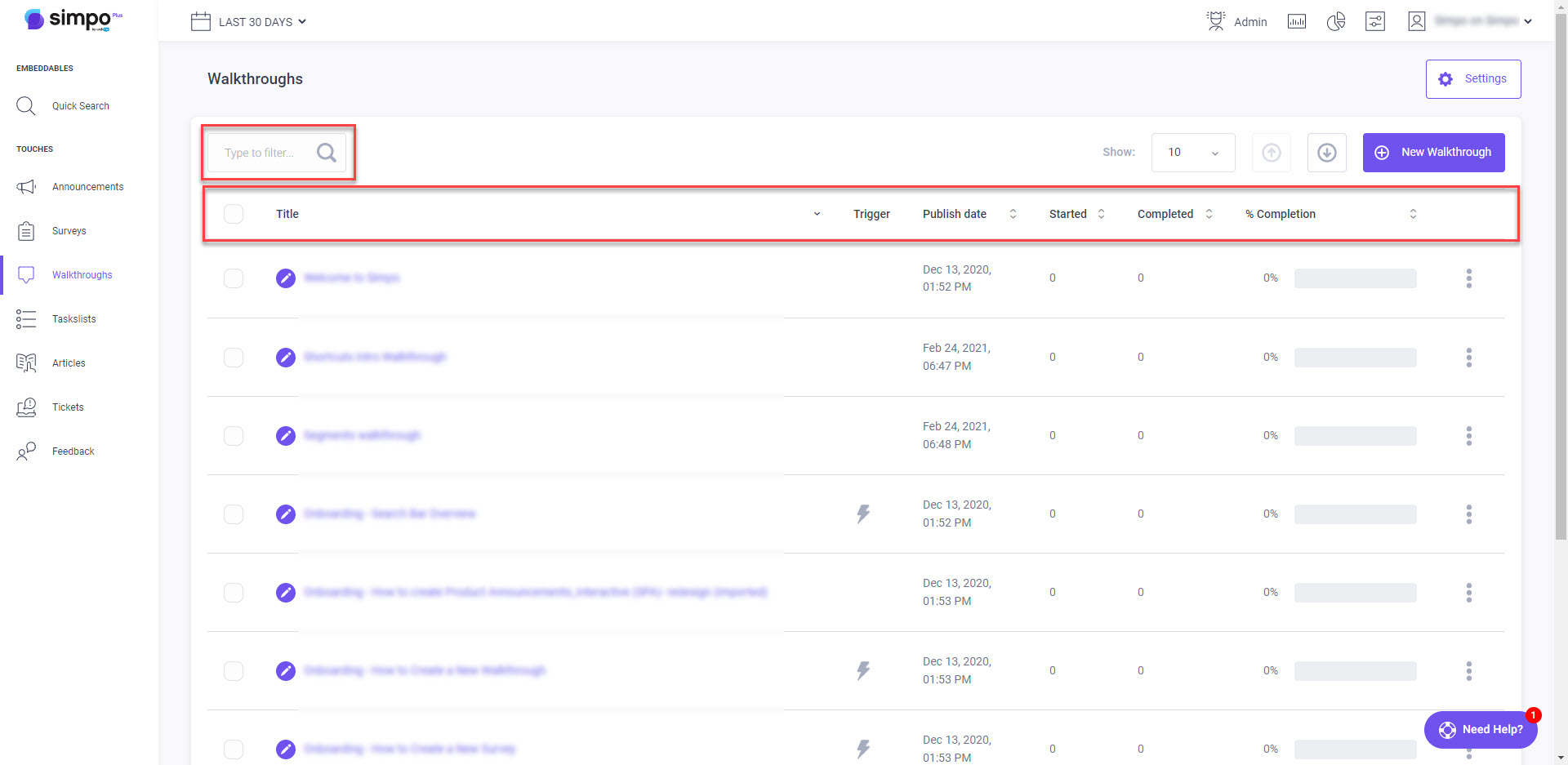 ---
Walkthrough Review
By clicking on the walkthrough title itself or the Edit in app icon located on the right-hand side, you will enter the Walkthrough Creation Page. There you can edit the Walkthrough itself, its triggers, and searchability.
Walkthrough Content
The Content Tab allows you to make changes to individual Walkthrough steps. For this, the step needs to be selected from the bottom-right Walkthrough view.
On this tab, you can:
Edit font style, color, and size
Justify test
Add a bulleted or numbered lists
Add pictures, links, and videos
You also can also edit within the builder by clicking the Edit In App button.

Walkthrough Triggers
The Trigger Tab lets you create custom segments to modify who can see the walkthrough, where it will appear, and how often it will be shown. Learn more about triggers and segments here.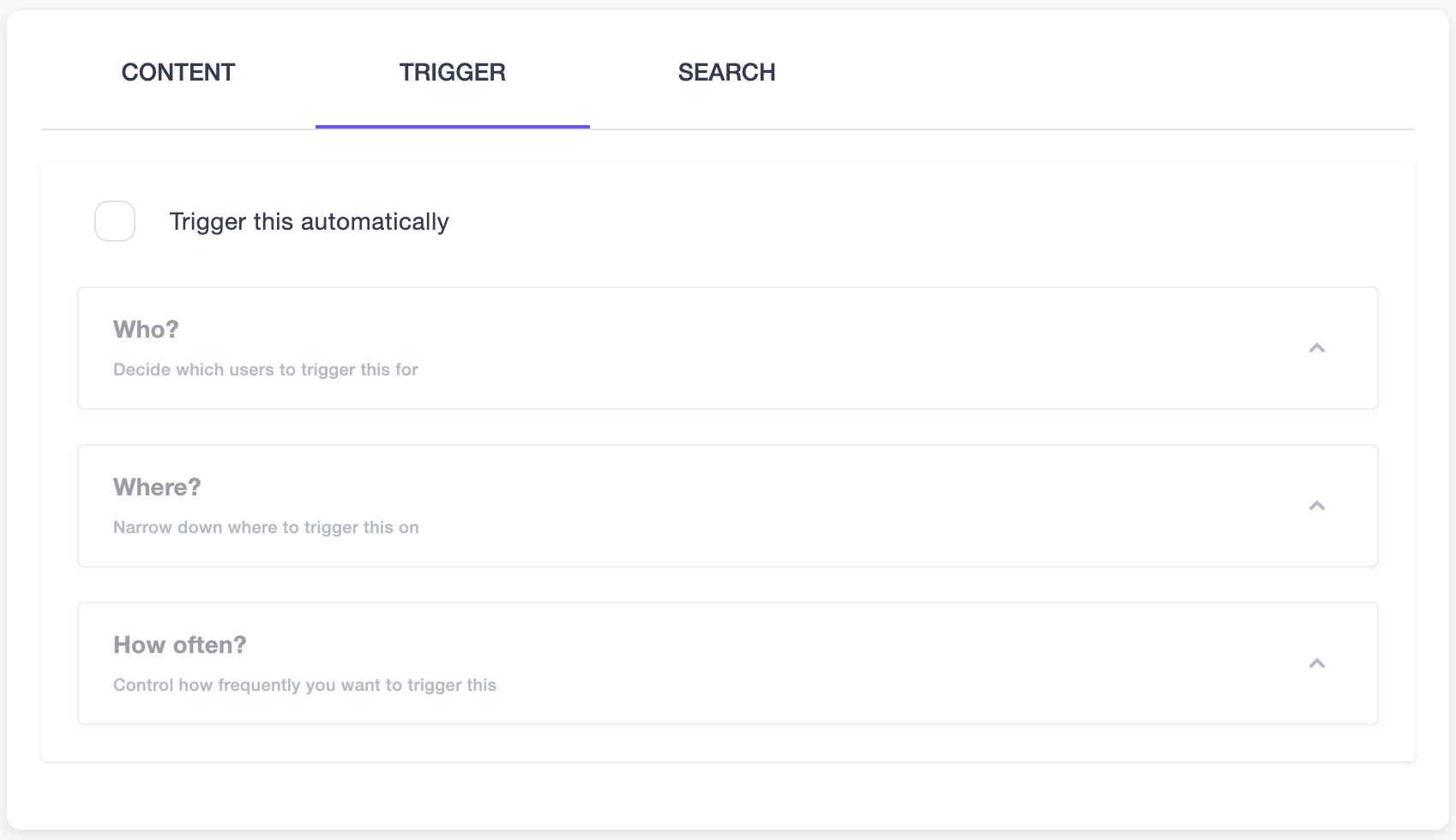 Walkthrough Search
The Search Tab has options to control who can search for the Walkthrough using Simpo Plus's Search tool and what keywords are associated with it.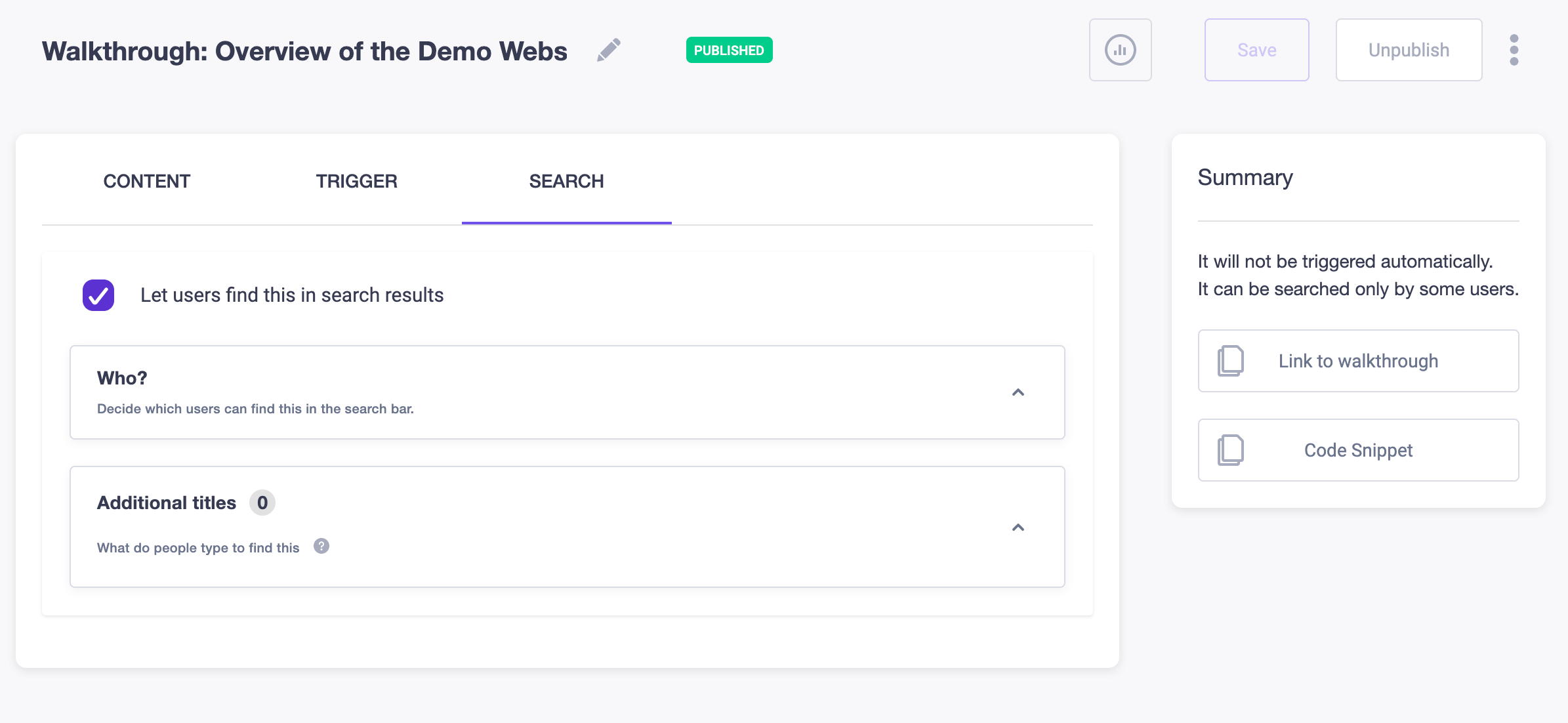 ---
Walkthrough Analytics
Upon clicking the Analytics button in the upper-right corner of the page, you will be brought to an analytics graph of the number of users who started and completed your walkthrough, the completion rate calculated using these values, and a step breakdown configured in a data table.
Hover over each graph hump to see the exact number of users who started and completed the walkthrough.
Below the graph is a data table depicting a breakdown of each walkthrough step and their individual completion rate.
---
Individual End-User Metrics
When viewing the list of Walkthroughs, clicking the completion rate bar will bring you to a list of each walkthrough session that has either been canceled or completed.
Walkthroughs usually have a 50% to 55% completion rate.
In session details, you can see exactly when the user prompted the walkthrough, the time they spent on your site, what they searched, any feedback they left, and exactly where they ended the walkthrough if it was cancelled.

A request to delete session details can be submitted through email by pressing the "delete" button located top-right of the page.
---
Global Settings
Global Settings applies to all created walkthroughs.
By default, all walkthrough steps will appear the way designed in Global Settings, unless the walkthrough or step has specific Walkthrough Settings or Step Settings, respectively.
To access Global Settings, click on the "settings" button with gear icon located top-right of the Walkthroughs app page.

Global Settings contains an execute function board, custom CSS board, editing features, and a preview of your walkthrough step. Elements that are added or changed apply to every walkthrough step you will make. Unless each step or walkthrough has different settings (via Step Settings on Builder), whatever you have designed in Global Settings is what will appear as the default when creating new walkthroughs.

PRO TIP: Unless individual steps or walkthroughs have customized settings, whatever has been changed in Global Settings will be used as the default when new walkthroughs are created.
---
---