How to Use Surveys
---
Simpo Plus Surveys are an extremely powerful tool for you to capture real-time feedback from your end-users and target audiences. With the Survey Tool, you are able to create surveys that contain multi-choice questions, free-text questions, rating questions, and NPS questions.
Creating a Survey
In order to start creating a new survey, all you need to do is click on New Survey as seen below: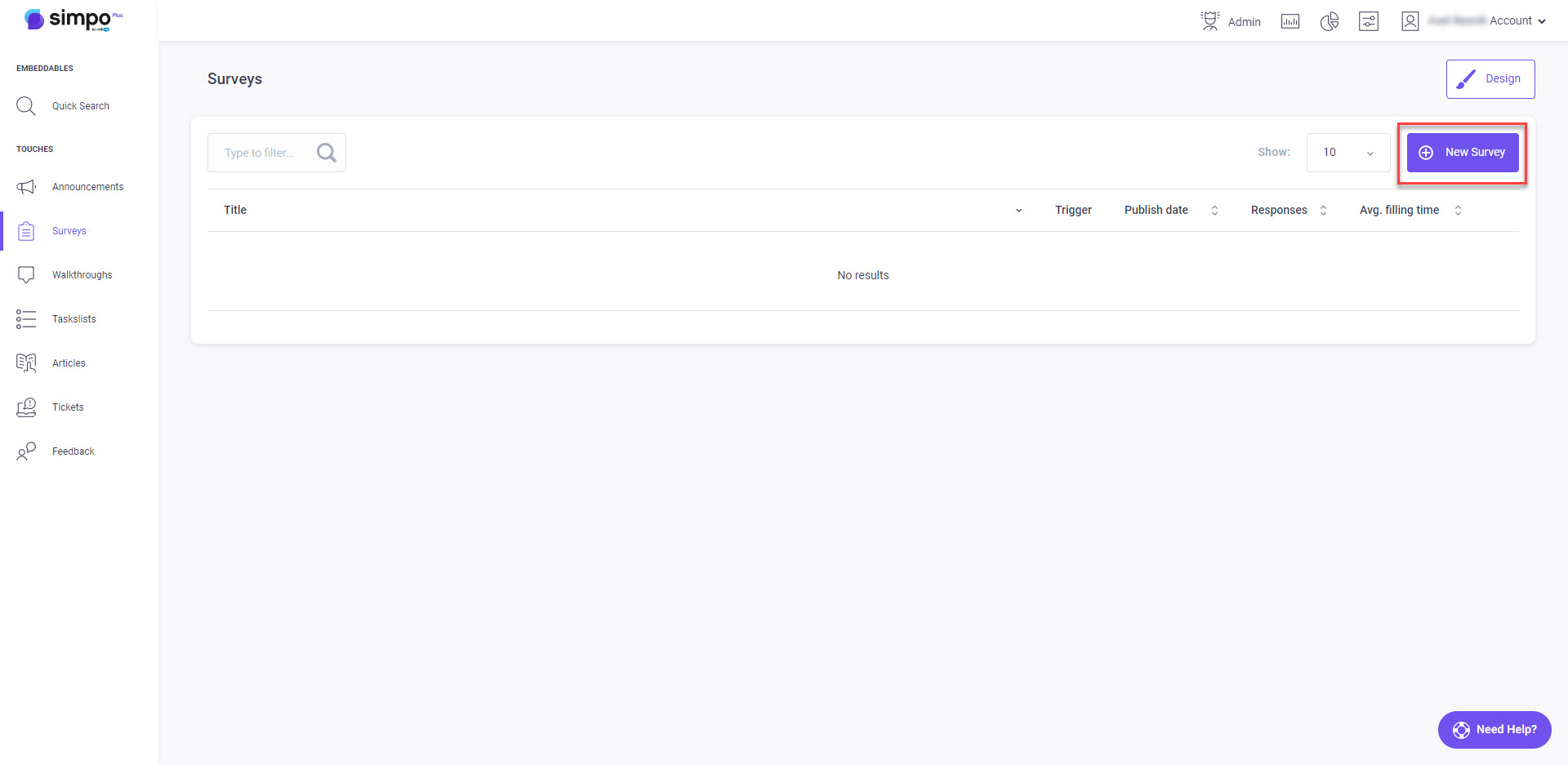 Once you click on New Survey, you are taken to the Survey builder where you are able to do everything from creating a customer Title, customizing the Design, creating a survey Audience, and reviewing the survey Analytics.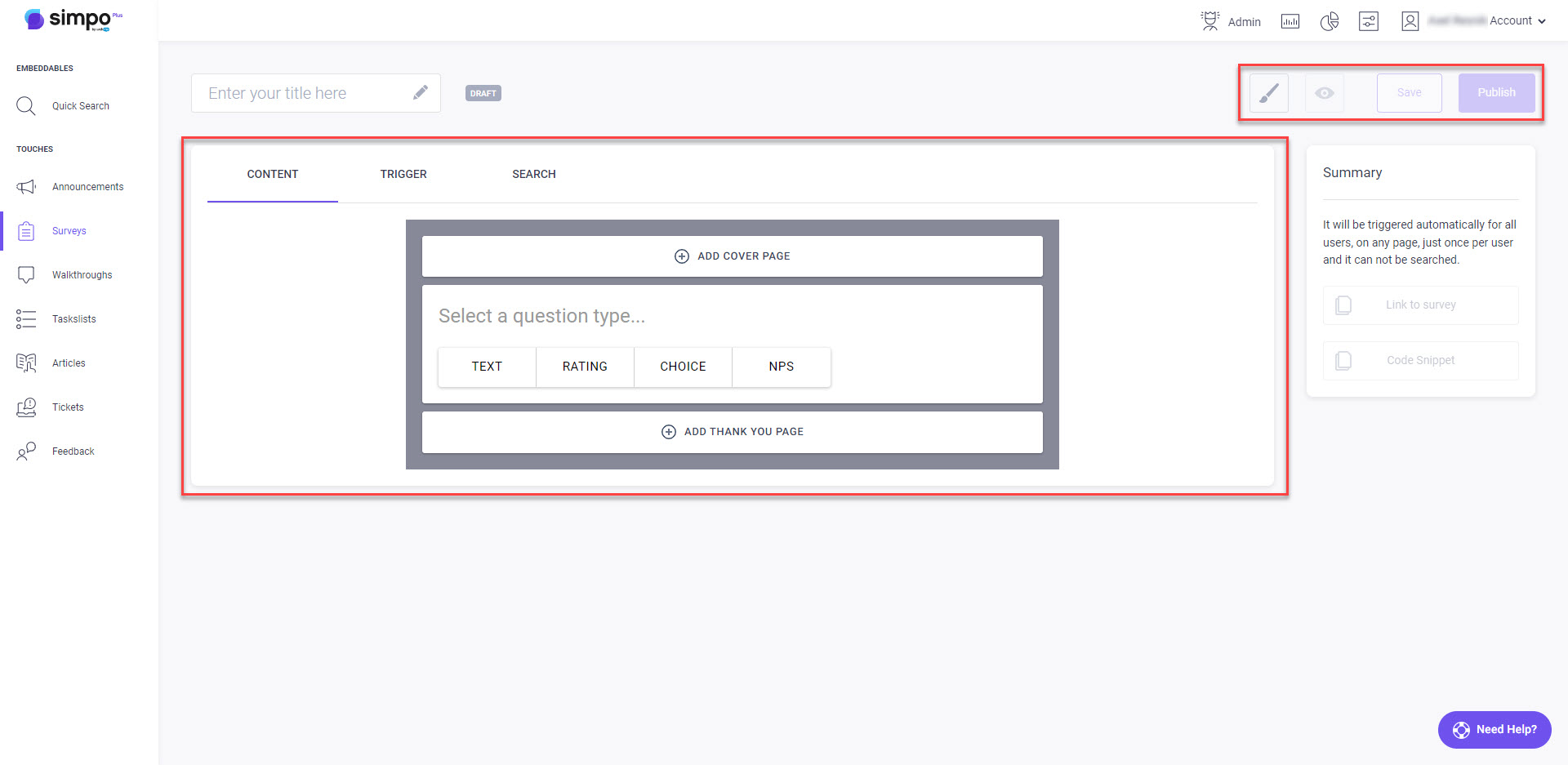 In order to start creating the Survey, you will start by creating a Cover Page. With the Cover Page, you are able to introduce your end-users to the survey. The Cover Page can be customized to match your branding or any other color scheme.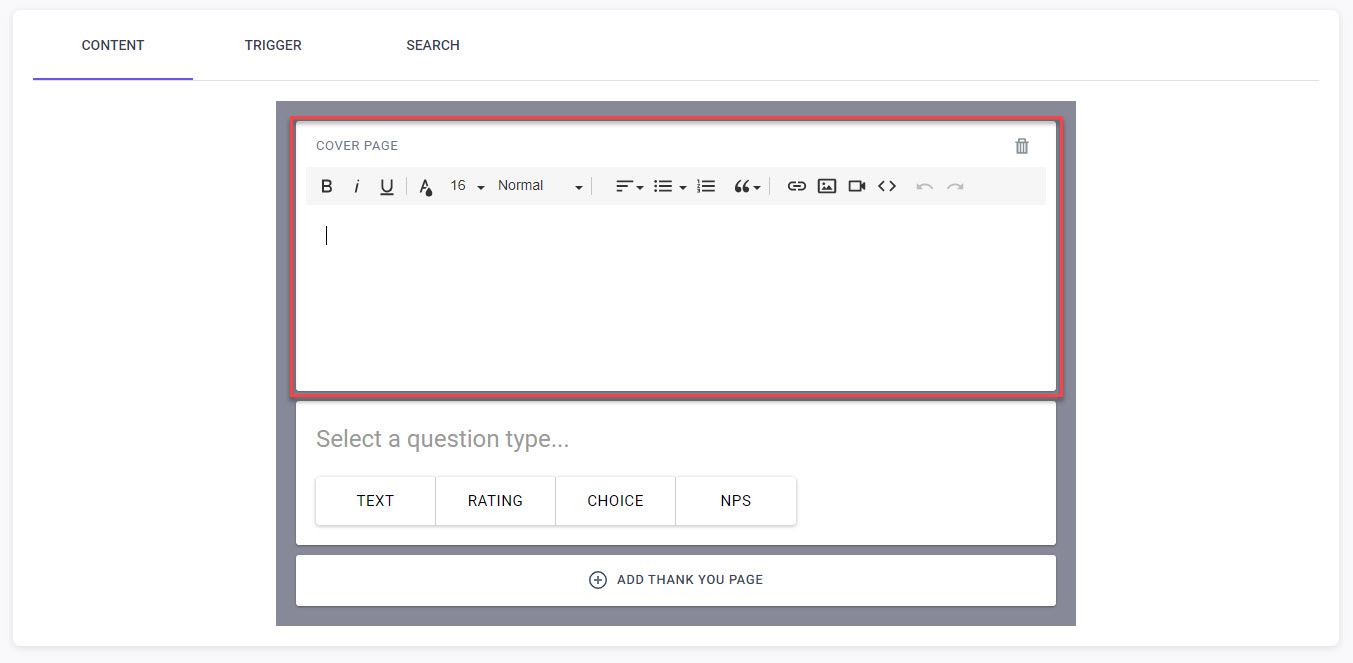 PRO TIP: The Cover Page is an optional step, but can be useful in order to prepare your end-users about the survey, and what type of questions they are going to be expected to complete and why.
Once you created the Cover Page, you can start selecting what types of questions you want to ask. For any type of question, you are able to make it Optional or Required on the survey.
We recommend keeping your survey between 3-5 questions total. This will help with your completion rate and ensure end-users are giving you impactful feedback.
---
Text Questions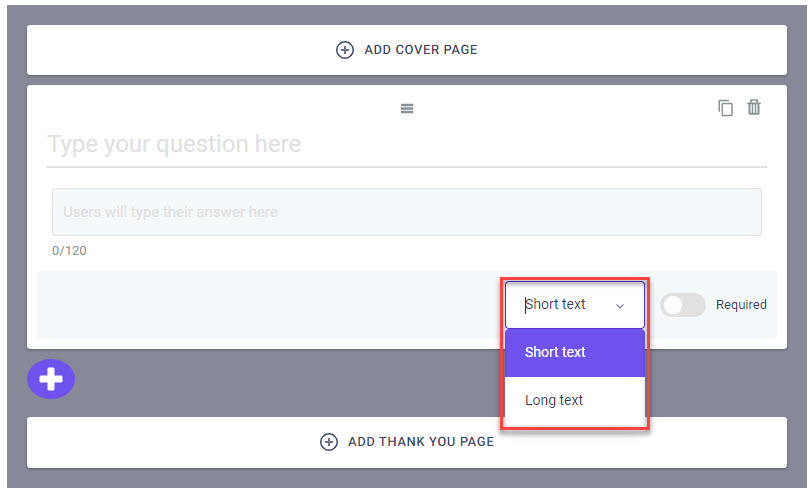 The Text Question gives you the ability to create free-text questions for Short Text (80 characters max) or Long Text (520 characters max) where your end-users are able to provide you with any response they'd like.
---
Rating Questions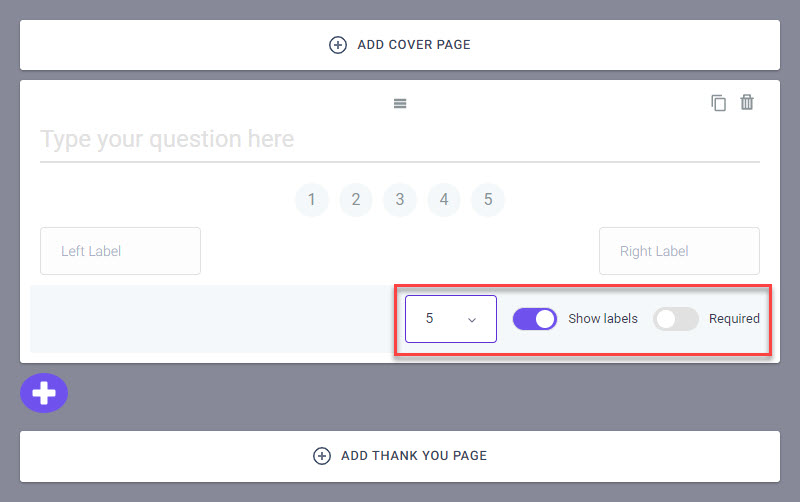 Rating Questions give you the flexibility to ask questions to your end-users where they are able to select numbers based on their opinions. On the Rating Question, you are able to edit both the Left and Right Label to fit any parameters you'd like. Also, you are able to customize the Rating Question to be from 1-10 or any combination such as 1-5.
---
Choice Questions
The Choice Question gives you the opportunity to ask multi-choice questions to your end-users You are able to configure this survey question to either be Single Choice or Multiple Choice.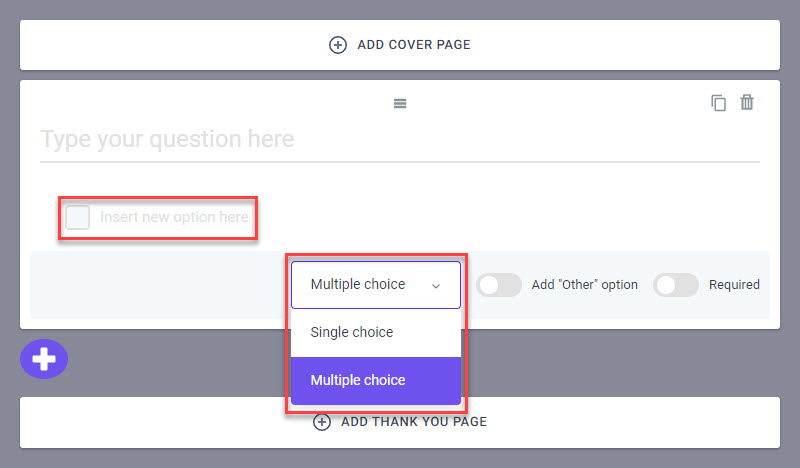 PRO TIP: You can add an "Other" item when asking the Choice Question to allow your end-users to provide you with other options that aren't listed in the default choices.
---
NPS Questions
The Net Promoter Score (NPS) is a survey based management tool used to measure experience and overall satisfaction for a customer. The NPS survey calculates a score based on a ranking from 0-10 made by a user and asks one question: "How likely are you to recommend us to your friends and colleagues?"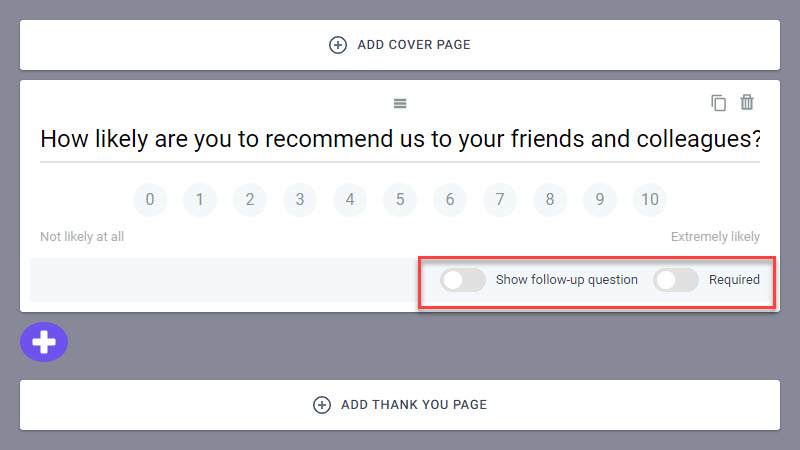 PRO TIP: You can create a Survey with any combination of these questions, and can order these questions in any manner you like. We RECOMMEND having the most important questions at the start of your survey as those are more likely to be completed.
Once you have created your finished creating your Survey Questions, you can create a Thank you page to be presented to your end-users when they complete the survey.
Once the Thank You page is created, you can choose to Save or Publish the survey.
Survey Analytics
Once you have created your Survey and gotten some responses from your users, you will be able to view your Survey Analytics. From there, you can see your response in an aggregated view, break down responses by users, and export the data via a .csv file.
To view your analytics navigate to the creation page a Survey and click the "bar chart" icon in the upper-righthand corner of the page.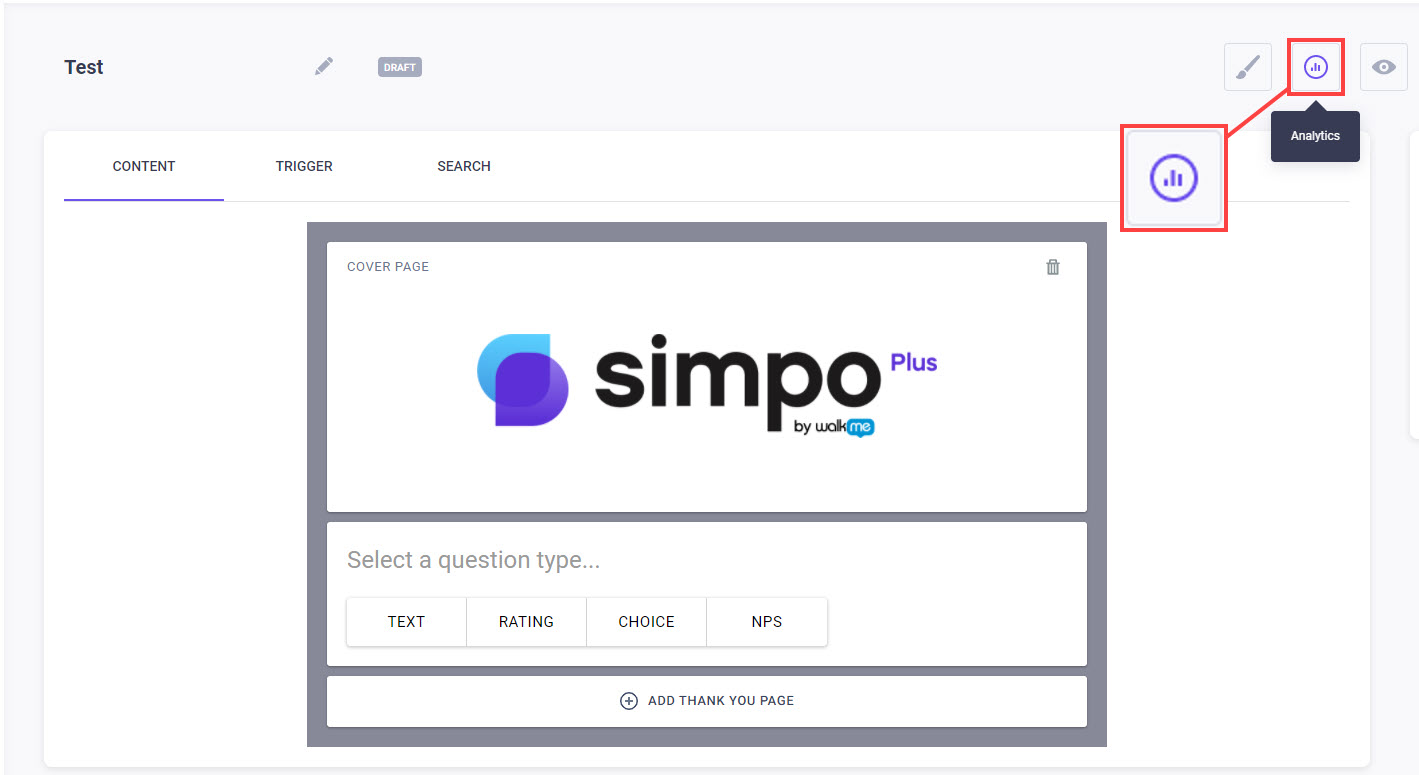 From this page, you will now be able to view your survey's responses (both qualitative and quantitative) and their graphical representations.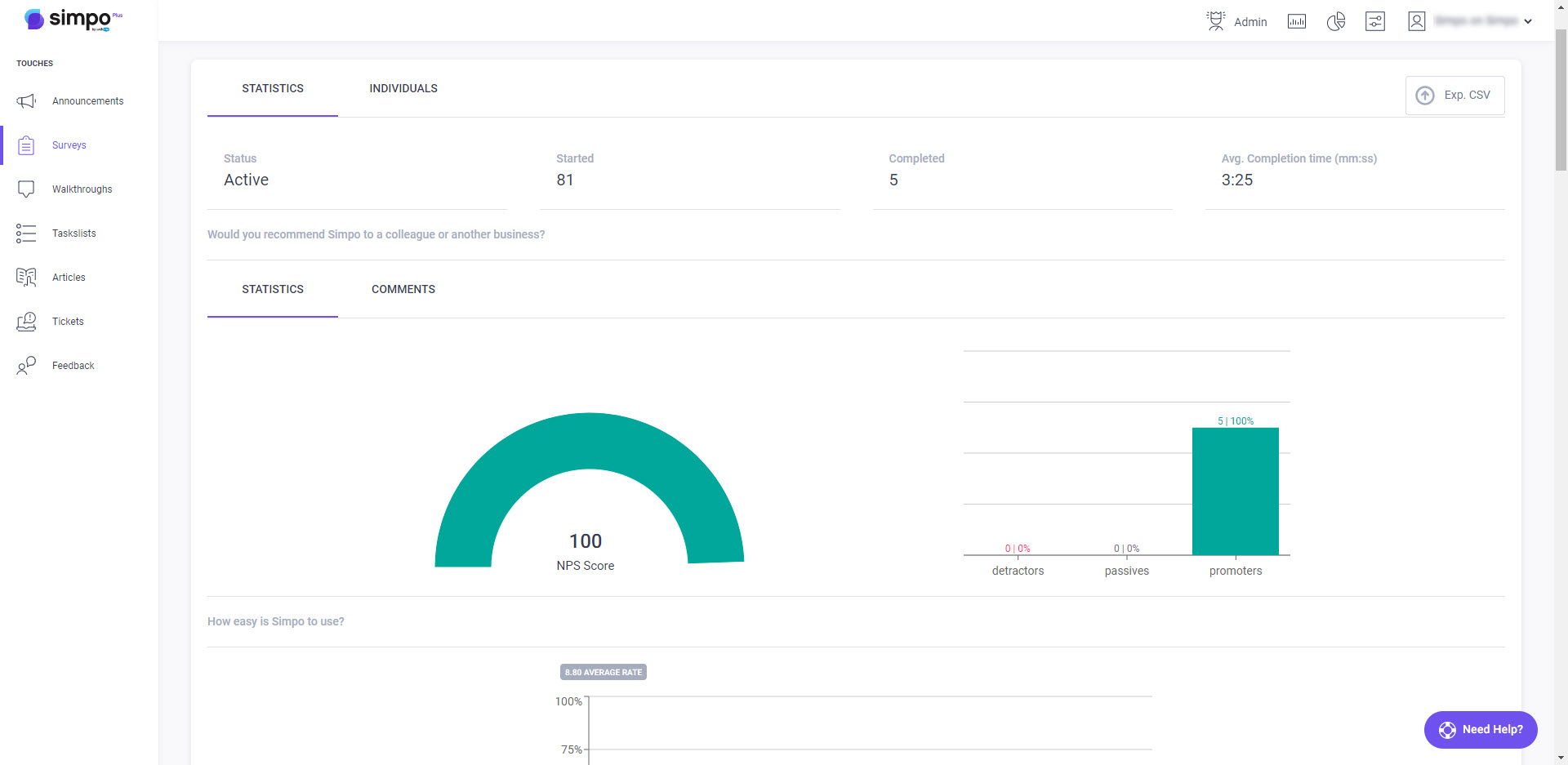 You can further breakdown your Survey to see individual responses by clicking the "Individuals" tab at the top of the screen.

Exporting Survey Analytics
You can export your Survey analytics at any time by clicking the export button at any time. You should see a .csv download begin immediately after clicking!


---
---